Guillaumin, The Banks of the Orge at Breuillet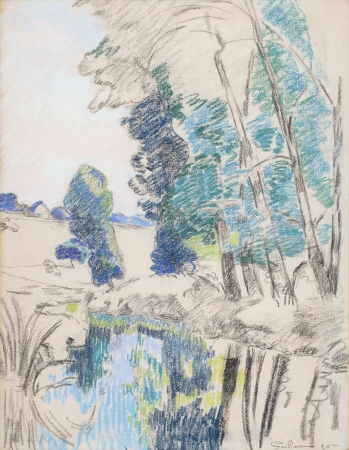 Armand GUILLAUMIN (1841-1927)
The Banks of the Orge at Breuillet
1895
pastel on paper
60 x 47 cm
© MuMa Le Havre / Charles Maslard

This pastel was likely executed in May or June 1895, when
Guillaumin
had returned to Paris region briefly between a winter stay in Agay and a family holiday in Pontcharra. The place was familiar to him, as he had already been to the banks of the Orge at Épinay, a village neighbouring Breuillet, in 1889 and 1891.
The extremely free treatment of the pastel lets the paper show through in the reserved areas and plays with the variation in the dark and soft greens of the leaves. Its unfinished appearance stands in sharp contrast to the painting
Ile-de-France Riverbanks
, for which this drawing was likely used as a study, given the similarities in composition and colour.
Olivier Senn's initial collection contained no fewer than 32 works by
Guillaumin
, including a coherent set of 22 pastels depicting a mix of interior scenes, portraits and landscapes. Although the Le Havre-based collector had a particular fondness for the landscapes of the Creuse and southern France, he also acquired several pastels and watercolours done in the Paris region, notably at Charenton and Breuillet.
Learn more
Recent acquisitions
Artworks in context