Guillaumin, The Seine at Samois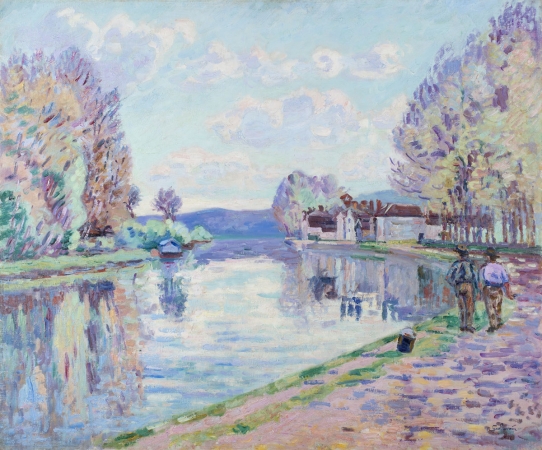 Armand GUILLAUMIN (1841-1927)
The Seine at Samois
ca. 1898
oil on canvas
60 x 73 cm
© MuMa Le Havre / Charles Maslard

Like Claude Monet and the Impressionist painters, Armand Guillaumin was fascinated by the play of light on water. In his painting The Seine at Samois, the artist, who had been working in the Paris region for several years, set up his easel on the banks of the Seine along a path lined with poplar trees. It was the ideal location for capturing the changing light of the Ile-de-France sky on the surface of the water. Several sturdy buildings, typical of the Bas-Samois area, close the perspective.

Guillaumin returned to the village on several occasions between 1898 and 1902, producing a dozen or so works painted from nature. Dividing his attention between the old town of Samois and the more recent buildings of the Bas-Samois, he alternated between broad views over the river or narrower views of the houses.

The Seine at Samois, acquired by Olivier Senn at an unknown date, completes a set with two other paintings the artist produced in the Creuse, Snowy Landscape at Crozant and The Creuse at Crozant, which joined the MuMa collection in 2005.
Learn more
Recent acquisitions
Artworks in context