GUILLAUMIN, Bridge Over the Sédelle, Crozant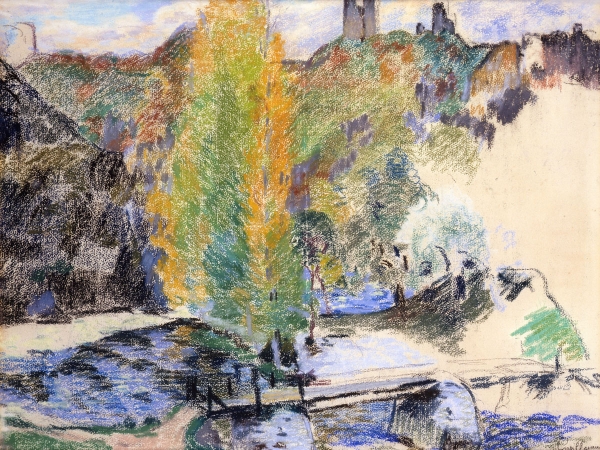 Armand GUILLAUMIN (1841-1927)
Bridge Over the Sédelle, Crozant
1896
pastel on paper
47 x 60 cm
© MuMa Le Havre / Florian Kleinefenn

At the confluence of the Creuse and Sédelle rivers, the ruins of the Crozant feudal castle stand on a rocky spur. Loyal companion of Cézanne and Pissarro during their Parisian years, close friend of Gauguin and the Van Gogh brothers, Guillaumin chose after years of conflicts within the Impressionist group to leave his life in Paris behind in 1892. After winning a large sum from bonds in 1891, he was able to take an early retirement.

At this time, Guillaumin had earned the respect of his peers and his paintings had sold to several dealers and a category of collectors who appreciated his work. In 1893, Crozant became his location of choice. Guillaumin first settled into the Hôtel Lépinat before renting a house year round in a hamlet known as Les Granges. The artist found in the Creuse massive landscapes that he outlined with a strong hand, translating them into decors in which details are often excluded for the sake of large masses of colour. The site of the Brigand Mill on the shores of the Sédelle was one of the places he returned to on a regular basis.

The setting had the appeal of making colours sing: all round, the granite rock shows through in touches of grey punctuated with ochres and burnt siennas and strong cobalt blues that emphasize the purity of the Sédelle waters. Trees are rare in these rocky landscapes, but the site of the Brigand Mill provided a choice motif for the painter enamoured with colour: red poplars ablaze in the autumn light. Guillaumin was especially fond of this multi-coloured and shifting valley of the Creuse. The majestic sites had the harmony of the age-old rocks and the painter was spoilt for choice of a composition to satisfy his aspirations.