GUILLAUMIN, Woman's Head in Profile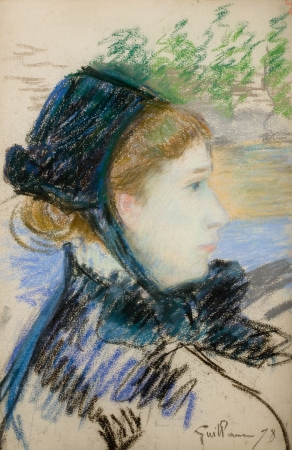 Armand GUILLAUMIN (1841-1927)
Woman's Head in Profile
1878
pastel on paper
47 x 32 cm
© MuMa Le Havre / Florian Kleinefenn

Guillaumin rarely produced portraits prior to 1885–1890, a period during which he regularly kept company with Marie-Joséphine Gareton, whom he wed in 1887. From that point on, Guillaumin prolifically painted members of his family, his wife going about her daily occupations, as well as his children at all ages of their lives. Back in 1872, when he had just turned thirty, Guillaumin drew the portrait of Marie-Joséphine when she was but a young girl of thirteen.

This pastel portrays a young woman in profile out of doors. The lower part of her face stands out against a light blue band indicative of a river in the background, while the line of her forehead and the bridge of her nose are accentuated by the ochre tones of the sandy bank punctuated by bushes as a backdrop.

It is difficult to recognise the features of his future wife in the straight nose, rounded forehead and almond-shaped eyes of this stately profile. The painter's first models were passers-by in the street, in public gardens and on the riverboats. Aboard one of the boats is undoubtedly where he observed this young woman looking off into the distance. The water behind her and a guardrail done in tones of grey seem to support this hypothesis.