Picasso, The Beggar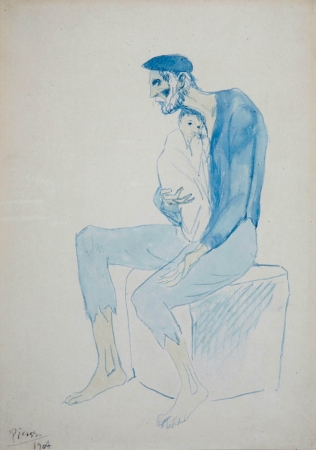 Pablo PICASSO (1881-1973)
The Beggar
1904
watercolour on paper
36 x 26 cm
© MuMa Le Havre / Charles Maslard — © Succession Picasso, 2013

Pablo Picasso
(1881–1973) was one of the most prolific and inventive artists of the 20th century. Born in Malaga, son of an art teacher,
Picasso
was a gifted child who, at the age of eight, was already painting with a precocious grasp of line and gesture. Settling in Paris in 1901, he invented Cubism alongside Braque and frequented the Surrealist milieu, but above all followed his own path and continuously explored a wide variety of techniques. When he died an internationally acclaimed artist in 1973, he left behind a vast body of work that spanned and dominated much of the century.
The watercolour that joined the MuMa collection in 2009 with the second Senn-Foulds donation was a product of
Picasso
's youth, and more specifically his Blue Period (1901–1904). This period, named for the predominantly blue palette he adopted, was in response to news of his friend Carlos Casagemas' suicide in 1901, a painful event that he evoked in
The Death of Casagemas
(1901, Paris, Musée Picasso). During these few years,
Picasso
painted melancholic subjects: women alone, saltimbancos, beggars, old men with malnourished, bent bodies, hollow faces and thin wrists and ankles, extremely fragile creatures. The prevailing bluish grey and brown tones strengthen the sense of distance one feels before this world tinged with sadness and fatality. The bodies, often stretched out, evoke the world of El Greco, which
Picasso
studied during this period and had a strong influence on him.
The Beggar
is part of this melancholic world.
A bearded man, seated, holds a swaddled baby against him, his left hand outstretched for money. Bent, barefoot, dressed in rags, he is filled with resignation, while the wide-eyed child by its sweet innocence questions the misery in the world. This watercolour can be associated with works like
Old Beggar with a Boy
(1903, Moscow, Pushkin Museum of Fine Arts) and
The Blind Man's Meal
(1903, New York, The Metropolitan Museum of Art).