CROSS, Le Mourillon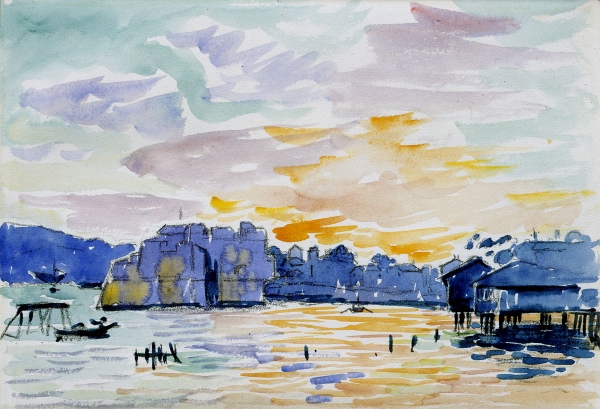 Henri Edmond CROSS (1856-1910)
Le Mourillon
1906
watercolour and black pencil on thick vellum paper
16.9 x 24.7 cm
Senn-Foulds collection
© MuMa Le Havre / Florian Kleinefenn

For this piece, the artist positioned himself at sea level, opposite the Rade des Vignettes, and gazed westward to sketch the urban and port coastline before him: the squat, geometric silhouette of Fort Saint-Louis (18th century) across the way, the wooded hill of the La Mitre district to the left, and the houses on stilts of Les Bains Sainte-Hélène that disappeared before World War I. At this late hour on a winter's day, the harbour is calm and only three small fishing boats (a tartane to the left and two row boats) add life to the scene.

Cross appears to have worked very rapidly. In just a few pencil strokes, he sketches the outlines of the fortification, the buildings, the diving platform to the left and the boats. Then, using very fluid brushwork, he applies the diluted colours (denser for the blue, as often the case) on white paper.


A few drops of water inadvertently splashed on the sketch by the walls of the fortress attest to its rapid execution, on location, without taking away from the quality of the artwork. Cross skilfully captures the soft flamboyance of the sunset and the peaceful nightfall as the city and the harbour gradually lapse into silence.

This rather elaborate watercolour, painted from nature, does not seem to have been touched up in the studio. It reveals an artist who has perfect mastery of the technique and a keen sensitivity for portraying atmospheric effects.