GUILLAUMIN, Fog at Sunrise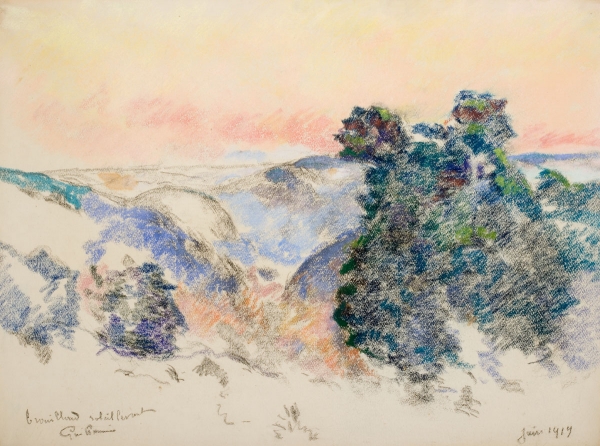 Armand GUILLAUMIN (1841-1927)
Fog at Sunrise
1919

47 x 62 cm

© MuMa Le Havre / Florian Kleinefenn

When the war was over, Guillaumin resumed his old habits of travelling. In June 1919, at the age of 70, he spent the late winter in Agay, staying there from February to June. After this four-month stay on the Mediterranean coast, Guillaumin joined Crozant at his home until the following winter. At the height of summer, the countryside had lost some of its colour: "This year, the heather has flowered even less than last year. I still do not work that much and yet I think the weather will change for the better, but good God, what colours!"
While Guillaumin often indicated the location in the lower part of his drawing, here he focuses on the effect and specifies the time of day and the atmosphere he wishes to render. His years in Paris gave him a special appreciation for dawn and twilight. Tirelessly walking the paths of the Creuse, he did not hesitate to wake early in the morning to capture the desired effect. After 1916, his palette grew softer and the general tone of his compositions brightened. On August 2, 1916, Guillaumin wrote: "The weather has been magnificent since we arrived. I am taking advantage of it to work. I wake at half-past four and I plug away until nine. There have been marvellous fog effects. The mornings are exquisite."
This late pastel done in soft and harmonious tones is worked with a stump to blend the contours into the morning mist. With pure lyricism, the artist captures the fleeting aspect of the first light of dawn. In his quest for the absolute, Guillaumin positions himself in the direct line of descent from the romantic landscape, a reflection of the artist's soul.