DEGAS, Marguerite Degas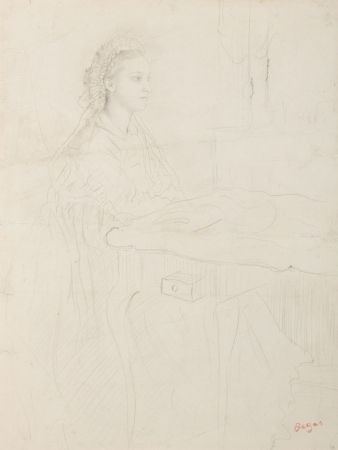 Edgar DEGAS (1834-1917)
Marguerite Degas
ca. 1859-1860
graphite on wove paper
30.1 x 23.2 cm
© MuMa Le Havre / Florian Kleinefenn

The eldest of five children,
Edgar Degas
was happy to use his brothers and sisters as models, particularly in the beginning during his art apprenticeship.
Marguerite
, eight years his junior, is said to have been the painter's favourite model. Born in 1842,
Marguerite
wed architect Henri Fevre in 1865 and left France with her family in 1889 for Buenos Aires, where she died in 1895.
Degas
painted and sketched her throughout her adolescence, as a young girl taking her first communion in 1854, then around the age of 14 before he travelled to Italy, and finally as a young woman just a few years before her wedding.
There are strong similarities between this drawing acquired by Olivier Senn and other portraits of
Marguerite
, particularly an
oil on canvas
and
two drawings
at the Musée d'Orsay.
In full-length front view,
Marguerite
poses standing, one hand on the back of a chair, the other hidden behind her. In these full-length portraits, as in the close-up portraits of her face, she appears coiffed with a simple lace bonnet. The frontal pose of the model gives particular prominence to the evenness of her facial features and the nice oval shape of her face accentuated by her smooth, symmetrically arranged hair.
Here,
Marguerite
is seated before a table. She is shown in profile, turned slightly three-quarters, dressed in a loose housecoat with the same ruffled bonnet framing her face. Her hair is pulled back, leaving the face clearly visible and revealing an ear. The position chosen emphasizes the elegant way she carries her head. Her eyes staring ahead into nowhere,
Marguerite
seems faraway, as if removed from the world around her. In an interior only barely suggested by the table and a fireplace in the background,
Degas
captures the calm and distant presence of the young woman with remarkable restraint and modesty.