REDON, Profile of a Man with a Bouquet of Flowers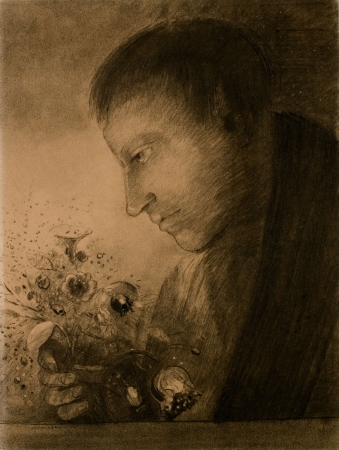 Odilon REDON (1840-1916)
Profile of a Man with a Bouquet of Flowers
ca. 1880-1885
charcoal with black pencil, smudging, marks of erasing on vellum paper
48.1 x 36.2 cm
Senn-Foulds collection
© MuMa Le Havre / Florian Kleinefenn

During the 1880s and until the early 1890s,
Odilon Redon
executed a number of charcoal profiles with flowers—often left profiles—with variations on the framing, the flowers and their arrangement, the facial features, and the intensity of chiaroscuro, to name a few. These profiles—mostly feminine, sometimes androgynous—were not portraits, even if, elsewhere, the artist reproduced this type of composition for true effigies.
Redon
wrote about the difficulty he had depicting the human figure according to academic standards, and this exercise must have seemed easier to him than the frontal, naturalist portrayal of faces—which are relatively rare in his body of work. The simplification of his figures and at times their unsophisticated character, earned him several cutting remarks from the critics during his lifetime: "figures on a children's slate, portraits of pawns seen in profile" wrote Jacques-Emile Blanche (1861–1942).
While profiles of men are few and far between, there is no means of identifying this one with certainty from the list of "Noirs"—admittedly incomplete—established by the artist, nor in his sales records, which list the profiles under repetitive and imprecise titles such as "profiles", "profiles looking down", "profiles with flowers", and so on. The features of this young man call to mind those of the male model in an undated pastel and the charcoal has stylistic affinities with the profile of a man at the Art Institute of Chicago,
Suggestion
, making it possible to date the artwork around 1880–85. It is, in any case, earlier than the idealized, more sophisticated and more evanescent profiles of the early 1890s.