GUILLAUMIN, Mill on the Creuse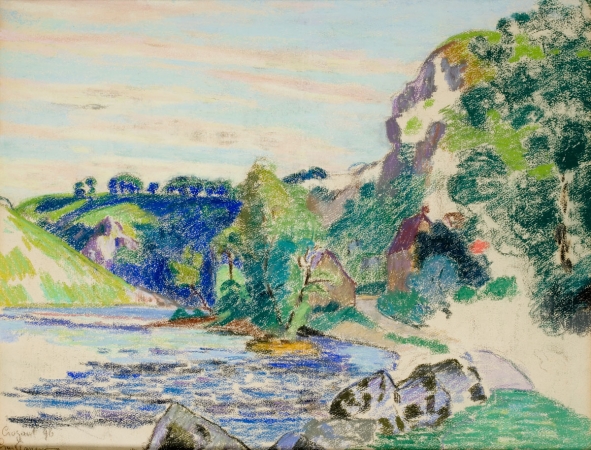 Armand GUILLAUMIN (1841-1927)
Mill on the Creuse
1896
pastel on paper
47.5 x 61 cm
© MuMa Le Havre / Florian Kleinefenn

In 1892, at the age of 51, Guillaumin discovered the little village of Crozant and was immediately captivated. Like a return to his roots, the painter chose as his adopted homeland a region neighbouring that of his childhood spent in Moulins, a town in the Allier. From then on, Guillaumin shared his time between winters on the Riviera, springtime in Paris and increasingly frequent stays in the Creuse. At the edge of the last foothills of the Massif Central, the village of Crozant is encircled by granite plateaus punctuated by the deep valleys of the River Creuse and its tributary, the Sédelle.

The artist found an immediate passion for tackling the wild landscapes. Day after day, for 30 years, he painted the site of the Crozant feudal castle, the diverse rock formations surrounding it, the mills that dotted the banks of the Sédelle and the plant cover presented in multiple variations of colour with each new season. The pastel in the Senn collection portrays one of the many mills around the village of Crozant. A small house can be seen on the edge of the escarpment to the right, its roof a faint outline, as well as a barn and, along the river, the mill. There are six mills around Crozant and Guillaumin painted them all.

Like his Impressionist friends and particularly Monet who stayed in the region in 1889, Guillaumin was fascinated by the play of light on water. The site afforded the artist ample light, as well as space structured by the different rocky foothills bordering the river. He could thus give free expression to his love of colour and make use of vivid contrasts: the swathes of dark blue on the hill in the background stand out against the clear purity of the sky mirrored by the limpid waters of the river. His use of pure tones applied in solids in his pastels and many of his paintings, as well as his desire to play with where the paper is left showing through, illustrate the explorations that brought the artist to the threshold of Fauvism.