Pissarro, The Statue of Henri IV and Hôtel...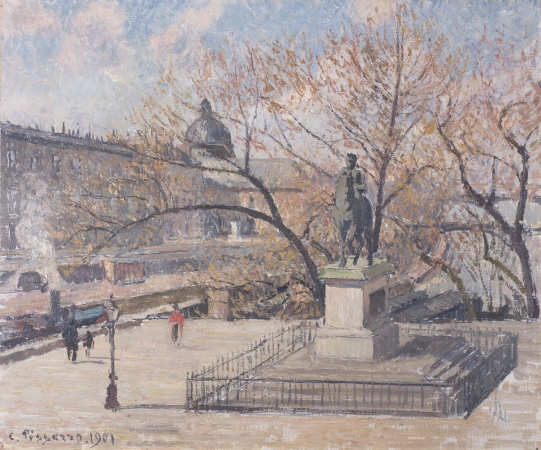 Camille PISSARRO (1831-1903)
Statue of Henri IV and Hôtel de la Monnaie, Morning, Sun
1901
oil on canvas
46 x 55 cm
© MuMa Le Havre / Charles Maslard

Working from his apartment at 28, place Dauphine in Paris, Pissarro strove, for the second time, to paint different views of the Louvre and the Seine from his window. The Statue of Henri IV and Hôtel de la Monnaie, Morning, Sun belongs to the "second series" and is part of a set of 26 paintings executed between October 31, 1901 and May 17, 1902. The painting in the Mathey collection focuses on the statue of Henri IV in the foreground, with the Hôtel de la Monnaie and the dome of the Institut overhead in the background to close the composition. A curtain of trees in their autumn glory creates a link between the different spaces.

Only three works in the series explore the motif from this angle, for after these paintings, Pissarro shifted his gaze to the right bank and concentrated on the long line of buildings forming the Louvre and the Pont du Carrousel. The subject allowed him to obtain a much greater depth of field and to play with the effects of the air and light between the waters of the Seine and the sky. The three seasons that punctuated his stay gave the artist a variety of landscapes that changed according to the weather, the time of day and the number of people that frequented them.

Pissarro's financial difficulties forced him to change his plans to travel to the South, so he spent the winter working on a new series of views of the Louvre and the Seine—a total of 13 paintings, including four of the Henri IV statue. During that same period, the artist decided to diversify his motifs and rented a room in a hotel on the quai Colbert. The Pont Royal and Pont du Carrousel thus became the subjects of several paintings. Dividing his time between the two locations, the artist painted his third and fourth series on this new motif between November 13, 1902 and May 29, 1903.
Learn more
Recent acquisitions
Artworks in context