La Fosse, Study for Saint John the Evangelist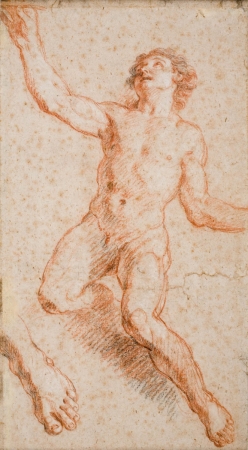 Charles DE LA FOSSE (1636-1716)
Study for Saint John the Evangelist
red chalk reinforced with Pierre Noire pencil, traces of white chalk
41.7 x 23 cm
© MuMa Le Havre / Florian Kleinefenn

Charles de La Fosse (1636–1716) was the student and then protégé of Charles Le Brun, Premier Peintre du Roi, prominent member of the Académie Royale de Peinture and a main contributor to the building projects at Versailles until the death of Colbert. La Fosse pursued his training in Italy, where he studied masters such as Giorgione, Titian, Veronese and Tintoretto. The influence of Italian painting, along with his admiration for the work of Rubens, brought a new manner to the French classical style inherited from Le Brun, one that could be described as suppler and more elegant, with the use of bright colours. La Fosse returned from London, where he had been decorating a palace for the Duke of Montagu (1700–1701), when Jules Hardouin-Mansart assigned him the paintings of the Dôme des Invalides. Between 1702 and 1706, he painted the decor of the dome and the pendentives portraying Saint Louis presenting his arms to Christ and the four Evangelists.

The drawing at MuMa is a study for the figure of Saint John the Evangelist who appears in one of the dome's pendentives. This nude study precedes a study of Saint John clothed, similar in size, exhibited at the Cleveland Museum of Art. These two studies illustrate the academic technique inherited from Le Brun in which a figure must first be drawn nude, then draped. They also undoubtedly borrow from Michelangelo's seated prophets and sibyls on the Sistine Chapel. The MuMa drawing shows the tip of the feather in the Evangelist's hand, although it does not appear in the Cleveland drawing. This distinction connects the study of Saint John nude to the preparatory sketch for the dome held by the Musée des Arts Décoratifs in Paris. And yet the final painting at the Invalides, showing Saint John in another posture, is significantly different from these studies and the sketch.

The sheet, along with a set of over eighty drawings by La Fosse, belonged to the collector Rémi Chardey, and was purchased by the city of Le Havre in 1866.