CROSS, Sunset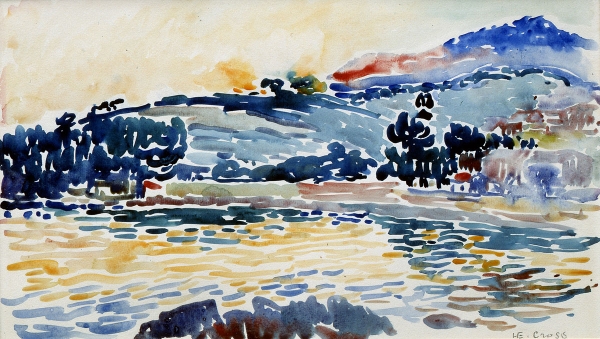 Henri Edmond CROSS (1856-1910)
Sunset
watercolour on vellum paper
© MuMa Le Havre

The fact that Henri-Edmond Cross sent this watercolour to major international exhibitions suggests the artist and his gallery felt confident about the piece and considered it the best reflection of a state of his furthest explorations at a given point in time. And yet Sunset does not resemble the large watercolours he composed or completed in his studio. It retains the spontaneous quality of an artwork painted from nature.

The colours are deposited in large brushstrokes, sometimes diluted to the point of blending into one another and softening the shapes. Mainly done in sprawling long or short irregular horizontal strokes on white paper to depict the surface of the water scintillating with the light of the setting sun, the brushwork is thickened with blue pigments and becomes vertical to suggest the rocks in the foreground or the trees on the water's edge, then grows blurred to convey the violet shadows of the hill in the background.

An orangey sun disappears behind the mountain, setting the sky ablaze with reds and gold. Cross captures the fleetingness, that exact moment at the end of the day when everything suddenly shifts, when the golden light vies with the shadows that are already gaining ground. He manages to achieve the poetry of the ephemeral, and this grace is no doubt one of the reasons he chose this piece to introduce himself to the public.