Degas, Drapery Study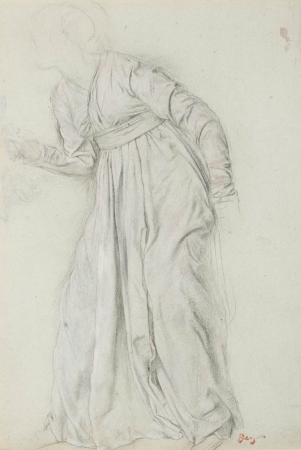 Edgar DEGAS (1834-1917)
Drapery Study. Study for Semiramis Building Babylon
ca. 1860-1862
graphite, Pierre Noire pencil and white gouache, on blue-grey laid paper
32.8 x 31.3 cm
© MuMa Le Havre / Florian Kleinefenn

Edgar Degas
(1834–1917) pursued a classical education at the École des Beaux-Arts in Paris followed by a three-year period of study in Italy. He returned to Paris in 1859 with the ambition to revive the historical painting genre and began work on five paintings:
The Daughter of Jephthah
,
Semiramis Building Babylon
,
Alexander and Bucephalus
,
Spartan Girls Challenging Boys
and
Scene of War in the Middle Ages
. The numerous preparatory studies that have survived reflect the slow and difficult maturation of these works. Seeking an impossible synthesis that would renew the historical genre, the eternally dissatisfied artist eventually abandoned his compositions, leaving most of them unfinished. Only
Scene of War in the Middle Ages
was completed and presented at the Salon of 1865.
Drapery Study
belongs to a series of preparatory drawings for the painting
Semiramis Building Babylon
, now part of the Musée d'Orsay collection. In this artwork,
Degas
depicts the legendary founder of Babylon, Semiramis, Queen of Assyria, accompanied by her attendants, standing on a terrace contemplating the construction of the city on the banks of the Euphrates River below.
Degas
worked on this painting for almost two years, executing numerous studies in pencil, wash, pastel and oil, for
the overall composition
and each one of the characters.
This drawing shows
Semiramis
' attendant, standing just behind the queen. The Musée d'Orsay has other drawings of this character, providing insight into the way the artist worked. The woman was first drawn nude to determine the exact position of the body, then half-draped and finally fully draped, to deliver a drapery study of exceptional virtuosity and finesse. The delicate fading of the pencil, combined with the light fluidity of the white paint, helps subtly model the movements of the body wrapped in the supple fabric.
Olivier Senn, a collector from Le Havre, purchased
a preparatory pastel
for
Semiramis
, which was donated by his son, Édouard, to the Musée d'Orsay in his father's memory.