DELACROIX, Six Studies of Cats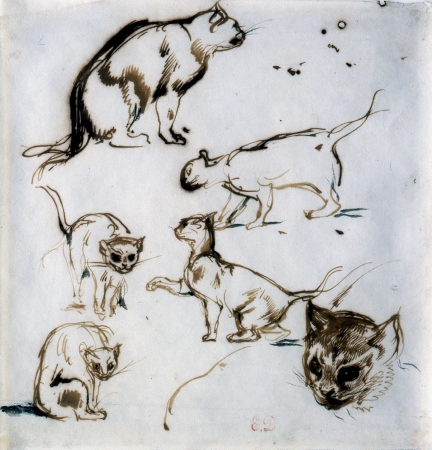 Eugène DELACROIX (1798-1863)
Six Studies of Cats
brown ink on vellum papier
18.8 x 18 cm
© MuMa Le Havre / Charles Maslard

Renowned for his portrayals of felines, lions, lionesses and tigers, Delacroix also took an interest in cats. Although the painted versions are unknown to us today, two mentions of the animal are made in the painter's Journal on January 13, 1851 and on April 2, 1856 when he wrote about "the large painting with two studies of cats". Some of the drawings were kept by the painter and included in the studio sale after his death.

Most of Delacroix's drawings of cats focus on their supple and carnivorous nature that makes them so similar to the big wild cats.
Champfleury wrote: "Topping the list of contemporary artists who concerned himself with cats is Eugène Delacroix, a nervous and febrile creature. The sketchbooks sold following his death showed the relentless studies he had made of the animal. Yet there is not a cat in any of his paintings, the reason being he turned them all into tigers!"

Studies of the drawing at Le Havre confirm this judgement, and even the cat shown in profile, its right paw extended, is probably not the affectionate household pet, but the tense and motionless predator, its hindquarters half-raised, ready to pounce on its next victim.