Monet, Waterlilies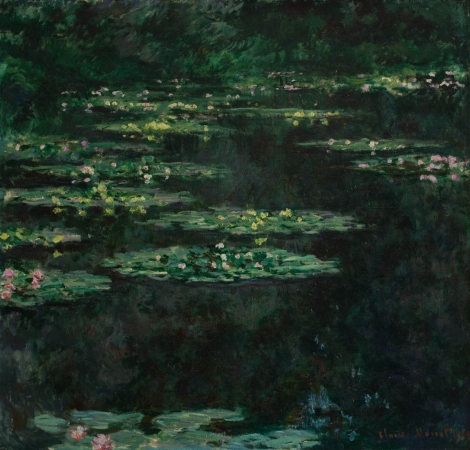 Claude MONET (1840-1926)
Waterlilies
1904
oil on canvas
89 x 92 cm
© MuMa Le Havre / David Fogel

In the spring of 1883, after having wandered along the banks of the Seine from Le Havre to Paris for 20 years, Claude Monet (1840–1926) settled in Giverny. The painter participated in the collective adventure of Impressionism and displayed works at the group's four first exhibitions from 1874 to 1879. Crowned with success, he withdrew and purchased the house known as Le Pressoir in 1890. His painting soon took a new direction. While continuing to exalt colour, he delved increasingly deeper into the study of the pictorial space. In 1893, Claude Monet requested permission to divert water from the Ru river to create a "water garden". He made a pond spanned by a footbridge, a reference to his love of Japanese art.

In 1899, through his work on the Waterlilies series, Monet embarked on unprecedented research as he focused almost exclusively on a motif that would become like a signature. Once he had finished the Japanese bridge series in 1900, the artist concentrated on the blooming waterlily pond. First intermittently, when he was not working on the Waterloo Bridgeseries, and then on an ongoing basis when he began a large suite in 1904. From spring to fall, the artist set up easels around the pond so he could capture sensations on several canvases at once and rework them later in his workshop. The Waterlilies at MuMa, painted in 1904, are part of a suite of forty-eight canvases known as "Waterlilies, a Series of Waterscapes" shown at Durand-Ruel's gallery in Paris in 1909.

This square painting emphasizes the decorative potential of colour. The framing eliminates almost all topographical reference to convey the infinite in perpetual motion. Once he had shaped nature and created a space especially for his painting, Monet would tirelessly explore this dominant subject for twenty-seven years. The Giverny garden became a laboratory that led to a genuine transformation of the landscape, in which colour prevails over form. His undertaking thus signalled the abstraction that would be developed by the artists of the New York School in the wake of World War II.