Renoir, The Excursionist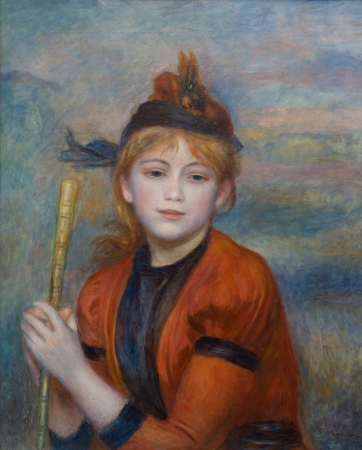 Pierre-Auguste RENOIR (1841-1919)
The Excursionist
ca. 1888
oil on canvas
61.5 x 50 cm
© MuMa Le Havre / David Fogel

Of all the Impressionists, Auguste Renoir (1841–1919) was the only one who never ceased to paint human figures, and more particularly women.

Although The Excursionist from the Marande collection has not been dated, it was likely painted around 1888, when Renoir sought to produce works depicting elegant young women in the costume of the day. The chosen models are shown playing the piano, gossiping, strolling in the countryside, and their company is reminiscent of the peaceful, happy atmosphere of garden parties in 18th-century France. The female figure is seated facing forward, looking at the viewer. The walking stick in her hand provides the only explanation for the title of the painting. The elements forming the landscape are very vague and appear more as coloured notes used to support the more pronounced colour of the figure. Despite giving the impression of being painted outdoors, it was presumably composed in the studio.

A transitional piece, The Excursionist was painted in thin layers that allow for the subtle passage from one colour to the next. The Impressionist brushstrokes are practically gone, giving way to a smooth and fluid painting style. Typical of Renoir's portrayals of young women in the first decade of the 20th century, this peaceful and luminous painting appears to be the picture of happiness, as handed down to us by the Impressionist masters.