RENOIR, Pines at Cagnes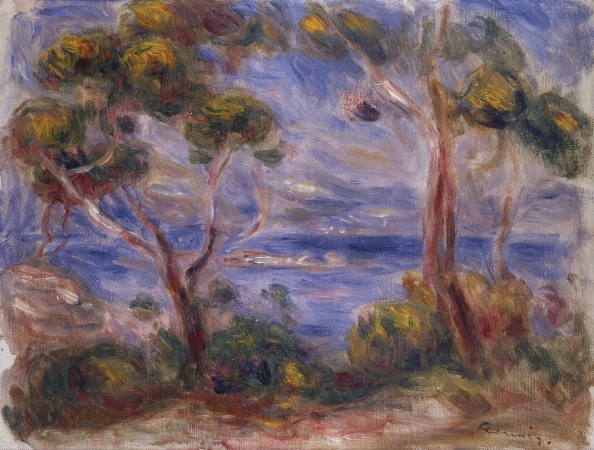 Pierre-Auguste RENOIR (1841-1919)
Pines at Cagnes
ca. 1919
oil on canvas, marouflage on cardboard
31.5 x 38.7 cm
© MuMa Le Havre / Florian Kleinefenn

While Renoir was most happy to be thought of as a painter of figures, works that critics felt represented the best of his production, the artist practised landscape painting throughout his career. In Pines at Cagnes, Renoir shows himself to be a highly skilled colourist. Planted firmly with two pines that give it stability, this piece is done with very dry paint that often lets the grain of the canvas show through.

The freedom of brushstroke is such that it seems the artist had painted the piece intuitively just the night before. The tiny horizon line tends to blend the sky and sea together in a single stretch of blue, while the sparse vegetation in the foreground, specific to Mediterranean landscapes, is given such swift treatment that the entire painting would become difficult to read if the pines were not there to indicate it is indeed a landscape.

Painted in rather cool tones, the artwork is nevertheless highlighted with golden yellows that shine in the pine needles. In the lower section, a single drop of crimson deposited at the base of the left pine resonates with the green bushes nearby. A few touches of white impasto in the branches suffice for Renoir to locate the action of the light. He uses a red base to paint the trunks of the trees, but varies the values from pink to brown, depending on the part of the bark exposed to the light.

In the leaves, he reproduces what he has learned from his time spent observing nature: "The colour isn't on the leaves, but in the empty spaces." And so he alternates between faded greens, pale yellows and dusty roses amongst the pine branches, echoing the colours used in the foliage.
This limpid painting, which seems to have been done quickly like a sketch, is the consecration of an artist's talent. Not long before his death, Renoir succeeded in rendering instinctive what had been for him a lifelong exploration of the craft.