Guillaumin, Snowy Landscape at Crozant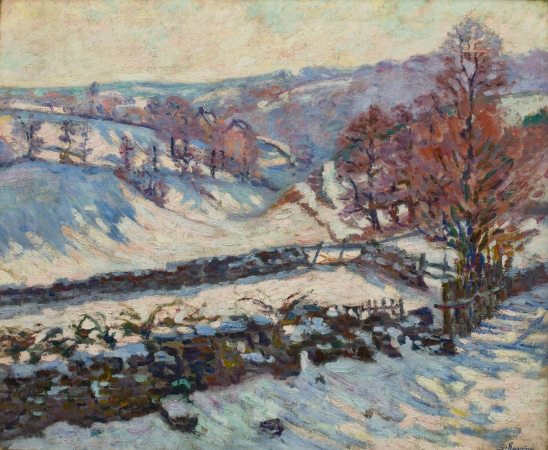 Armand GUILLAUMIN (1841-1927)
Snowy Landscape at Crozant
vers 1895
oil on canvas
60 x 73 cm
© MuMa Le Havre / David Fogel

Far away from Paris, the Creuse, a harsh and hostile land marked by severe winters, began to appear on the walls of the Salon de Paris in 1830. George Sand's novels set in the countryside made the region known and drew the first "open-air" painters to Nohant. Monet stayed in Fresselines from March to May 1889, but he cursed the changeable weather that required a constant reworking of his paintings. When Armand Guillaumin (1841–1927) followed Monet's example three years later, his robust constitution also had difficulty with the harshness of the Creuse.

But the artist was determined to explore his motif through and through, and get at its truth. As the lucky winner of the lottery, he was able to retire from his job and devote himself wholly to painting, spending almost all of the rest of his life at Crozant, from 1892 to 1924. He painted daily, regardless of the season, but art connoisseurs especially enjoyed his winter landscapes, the "Gelées blanches" (white frosts), which earned him a triumphant success at the major exhibition art dealer Durand-Ruel held in his honour in 1894, featuring no less than one hundred paintings and pastels.
In Snowy Landscape at Crozant, Guillaumin succeeds in stirring colours with a vibrant intensity. He pushes his application of Impressionist theories to the limit. In contrast to Monet's timid and delicate depictions of winter sensations, Guillaumin displays the full depth of the substance.

This landscape of the Creuse, clearly identified as the Grandes Gouttes, reappears in Guillaumin's works through the seasons. He painted it with a bright orange palette in March 1902, under grey skies or a thin layer of frost, sometimes more than once in the same month. This profusion of works on the same theme makes dating the paintings very difficult.

In 1907, Guillaumin sent a Chemin des Gouttes (Snow) to the Cercle de l'Art Moderne exhibition in Le Havre. This may have been the painting acquired by collector Olivier Senn.