Jongkind, Quay at Honfleur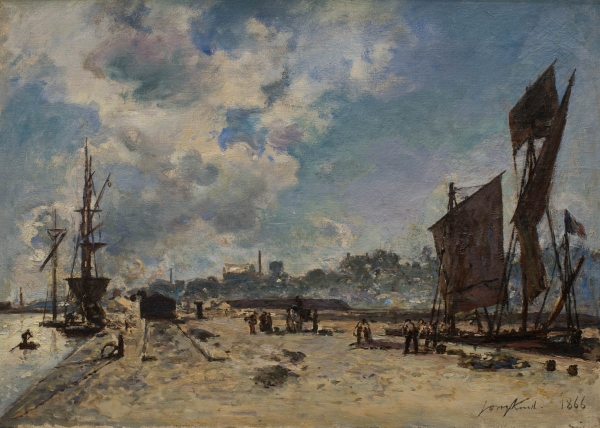 Johan Barthold JONGKIND (1819-1891)
Quay at Honfleur
1866
oil on canvas
32.5 x 46 cm
© MuMa Le Havre / David Fogel

After studying at the Academy of Art in The Hague,
Johan Barthold Jongkind
(1819–1891) met French painter Eugène Isabey in 1845 and followed him to Paris the following year. In 1850, he travelled for the first time to Normandy with Isabey, stopping in Honfleur, Fécamp, Yport and Saint-Valéry-en-Caux. Upon his return to Paris,
Jongkind
submitted to the Salon a
View of the Harfleur Harbour
, acquired by the State (Musée de Picardie, Amiens).
From 1862 to 1865,
Jongkind
made a number of trips to Normandy. His repeated sojourns in Honfleur gave him countless opportunities at the Saint-Siméon farm and on the Côte de Grâce to meet with his painter and poet friends, the Troyon brothers, Sisley, Corot and Cals, as well as Courbet and Baudelaire. During this time, he befriended Boudin and met the young Claude Monet. In their company or alone,
Jongkind
explored the coast, the quays of the harbour, and the streets and tiny squares of the Norman village. The harbour, the coming and going of the big ships, the lively quays and the shipbuilding sites became his favourite motifs.
Jongkind
spent the summer of 1865 in Honfleur, where he painted a number of landscapes, such as
View from the Harbour to the Railway
(Kunsthaus Zürich), which is of the same size and similar in nature to
Quay at Honfleur
. He used the same composition eleven years later to produce two other very similar versions, but larger in size.
Jongkind
was at the height of his art. In
Quay at Honfleur
, the composition is divided between a very open foreground showing signs of modern industrial activity (unloading docks, machines, hoists and pulleys, railway tracks, men at work) and a cloudy sky, a sumptuous piece of painting with energetic brushstrokes executed in thick paint. As often the case in his harbour scenes and riverscapes, the channel, basin or river suggest depth, strengthened here by the railway tracks.
Although he was absent from the first Impressionist exhibition in 1874,
Jongkind
was an important precursor of Impressionism. In the preface to the catalogue issued for the first posthumous sale of
Jongkind
's art on December 7 and 8, 1891, Louis de Fourcaud wrote, "In the future he will be recognized as the link, between Corot and Claude Monet, from one era to the next." Olivier Senn, an art connoisseur from Le Havre, was not mistaken when he took care to add this magnificent artwork to his collection, along with works by Corot, Monet, Courbet and Boudin.