PISSARRO, Quai du Pothuis, Banks of the Oise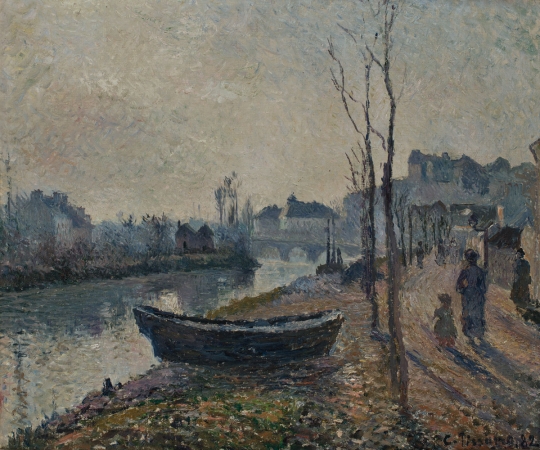 Camille PISSARRO (1831-1903)
Quai du Pothuis, Banks of the Oise
1882
oil on canvas
46.3 x 55.3 cm
© MuMa Le Havre / David Fogel

On September 18, 1882, Pissarro, who had to leave Pontoise with great regret for financial reasons, wrote to his friend Monet who was looking for a house to rent in the area: "The countryside is very wholesome, especially on the sides and tops of the hills; lower, along the Oise, fog prevails; the houses are built on dried marshland."

We are on the banks of the Oise, on the Quai du Pothius opposite an island of the same name that stretches along the left side of the painting, below the old town of Pontoise outlined in the distance. In the background, the bridge from one side of the Oise to the other, the hôtel-Dieu just behind and the old town all blend in a harmony of silvery greys. The city emerges from the shadows, an incandescent silhouette, while the sun shines its final rays on the banks of the Oise.

Pissarro focuses here on the effects of weather, the light fog that bathes the landscape. The components merge beneath the setting sun that tints the sky, the ground and the water a golden pink hue. His brushwork is smaller, vibrant. Backlit passers-by melt into this colourful magic and give the artwork all its intimacy. Pissarro is not striving to describe a place, but rather recreate the mood it evokes.

It was in 1885 that Pissarro, who was living in Éragny, became aware of the new style he had adopted: "I am all the more distressed not to finish these studies for at present I am caught up in a transformation, and impatiently hoping for some kind of result. I hope nevertheless to make some progress. I assure you that this is causing me great torment; it is obviously a crisis!" The seeds of this work on sensation and impression, which led Pissarro down the path to Neo-Impressionism for several years, are already contained in this sunny painting.