GUILLAUMIN, The Creuse at Crozant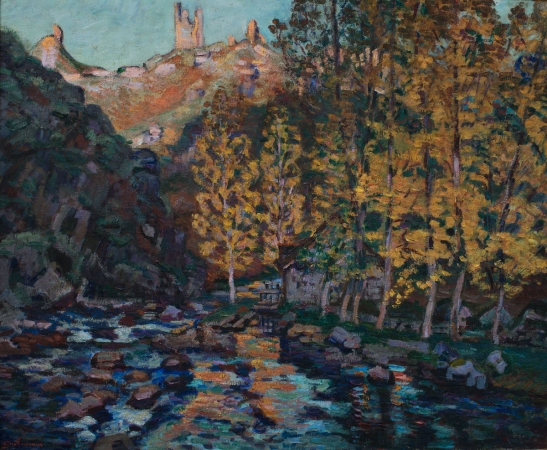 Armand GUILLAUMIN (1841-1927)
The Creuse at Crozant
ca. 1893
oil on canvas
60 x 73.5 cm
© MuMa Le Havre / David Fogel

Grown weary of the Parisian cliques, Guillaumin moved to the Fresselines area in 1892. There he pursued a solitary career, working each day on a few of his favourite motifs. The site of the Brigand Mill, overlooking the ruins of the feudal castle of Crozant, was of particular interest to him. He loved to portray the contrasts of the steep cliff that lined the river to the left and the hedge of gracefully soaring poplars that partially concealed the mill.

In The Creuse at Crozant from the Senn collection, Guillaumin paints the site in the warm autumn sun with a play of complementary colours: orangey yellow leaves and shimmering blue reflections on the river. The ruins of the castle stand out against the clear purity of the sky. The artists makes use of harsh contrasts: the dark face of the cliff worked in broad strokes of brown, rust and off-green is echoed by the foliage of the poplars and the peak of the mountain in the background hit by the full force of the sun. This intensity of colours, ultramarine and vibrant orange, that captivated the young Friesz when he came to work with Guillaumin in 1901 is something the artist had cultivated for a long time.

As early as 1885, his palette adopted the most strident of hues. In the Creuse landscapes with a changeableness that Monet found distressing, Guillaumin's use of colour came into its own. Olivier Senn also owned another artwork of the same motif, but a set from a viewpoint slightly further back (Bridge Over the Creuse, Crozant, pastel, 1896), in which the artist sets the tall spire of a poplar ablaze with his fiery palette. As with most of the places he was fond of, Guillaumin tirelessly returned to paint this location at different times of year. His loyalty to the Creuse and the old mill never waned, even when Père Brigand cut down the row of poplars along the river around 1905.