Manet, Boats at Sea, Sunset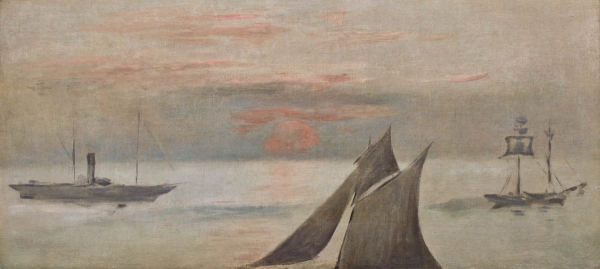 Édouard MANET (1832-1883)
Boats at Sea, Sunset
ca. 1868
oil on canvas
43 x 94 cm

© MuMa Le Havre / David Fogel

After refusing to study law as his father had wished and a failed attempt to enter the Naval College,
Édouard Manet
(1832–1883) enrolled in the atelier of Thomas Couture in 1850 and began his training as a painter. Rejected by the official exhibitions, the young artist played a leading role in the elegant bohemian life of Paris. He kept company with the painters Fantin-Latour and Degas, who lent him their support, and men of letters like the poet Baudelaire and novelist Zola, for whom he painted a famous portrait.
Manet
was enthusiastic about the creation of the Salon des Refusés, where he was able to present his celebrated
Luncheon on the Grass
in 1863 followed by
Olympia
two years later.
Between 1868 and 1873,
Manet
often spent his summers on the Normandy coast, which he knew well from when he was a child. He painted numerous seascapes, at Boulogne-sur-Mer in 1868, 1869 and 1871, and at Berck-sur-Mer in 1873. With its oblong format and spare style,
Boats at Sea, Sunset
from 1868 is a unique work of art. The composition is taken from the upper section of a watercolour study, currently held in Basel. Accentuating the horizontality of the work,
Manet
adds a boat to the upper right of the painting, but cuts off the main motif from the frame of the picture and chooses not to include the hull of the boat shown in the foreground, which is fully visible in the preparatory study. The continuity of the water and the sky, drenched in shades of soft grey, excludes any illusion of depth. Only the transparent silhouettes of the boats are outlined with a subtle backlight.
Boats at Sea, Sunset
shows the influence of Japanese woodblock prints revealed at the 1867 World's Fair. The Japanese pavilion at the fair reflected this style: the prints of Hiroshige and the manga of Hokusai—the sketchbook in which the artist captured scenes of daily life in Japan—once again drew the attention of the Western world. The infatuation of collectors and writers with Japanese art could only influence an artist like
Manet
, who was at odds with the official art of his time.
Manet
opened a luminous space to diffusely scattered light evoking the colour harmonies of Whistler, who was also a Japanese art enthusiast.