Degas, Washerwomen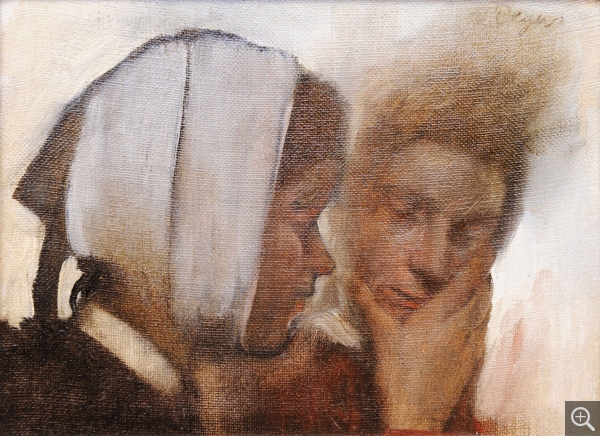 Edgar DEGAS (1834-1917)
Washerwomen
ca. 1870-1872
oil on canvas
15 x 21 cm
© Ministère de la Culture et de la Communication / Didier Plowy

Two days following its inauguration by André Malraux, the Musée-maison de la culture du Havre received, on loan from the State by the Order of June 26, 1961, the small painting by Degas Washerwomen, along with four other artworks. A move that demonstrated the French Ministry of Culture's interest in the brand new establishment. The work was unfortunately stolen in 1973, only to reappear on the New York art market thirty-seven years later. Officially restored to France by the American authorities, it was once again entrusted to the Le Havre museum by the Musée d'Orsay, and resumed its place on the walls of the Musée d'art moderne André Malraux the year of its fiftieth anniversary celebration.

This little painting is shrouded in double the mystery. Firstly, the period during which it had disappeared from the public domain remains and will undoubtedly remain fraught with secrets. But above all, due to this lengthy interruption, it was not included in the review that art historians have made of Degas' work over the past twenty years.

The painting is listed in Paul André Lemoisne's catalogue raisonné on the work of Degas as Washerwomen, or Washerwomen with toothaches. Very different from the series of "Women Ironing" and the "Washerwomen" that the artist presented at the second Impressionist exhibition in 1876, or the later series on women exhausted by their work, the painting deposited at MuMa does not likely portray women at work, and even less women suffering from toothaches, as the woman holding her cheek might imply.
So then who are these women? What is their connection? What are they doing? Their lowered eyes, focused on something hidden by a deliberately tight frame, seems to bring them together, without allowing us to guess what captivates them. The woman facing us (and can we be sure she is a woman, for that matter?) appears motionless, attentive to what the other, undoubtedly younger, woman is doing. Everything, in her slightly tilted face, concentrated and filled with restraint, seems to indicate studious application, modesty... is she a younger sister, a student? What is the young woman wearing? A headdress? Rather than a bandage?

The only conclusions provided by the scientific examination are that this is the original size, so the painting is not a fragment cut from a larger work, and that there is no underlying drawing.

So is this a simple head study, done in quick brushstrokes, or the sketch of a more elaborate project? Perhaps this small painting will reveal its secrets through new comparisons with other works by Degas or with the discovery of new documents that shed light on the master's life and work.