JONGKIND, Paris, Pont Marie and the Quai des Célestins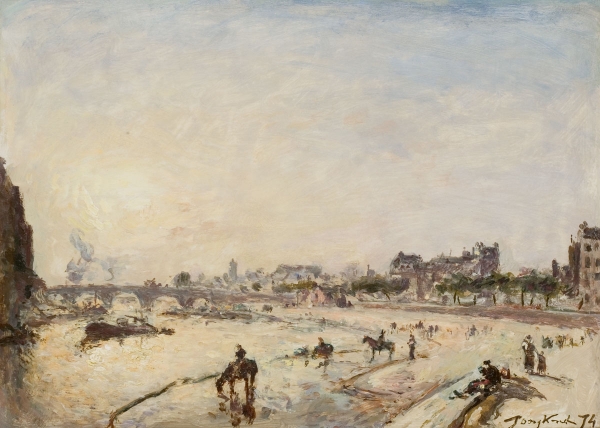 Johan Barthold JONGKIND (1819-1891)
Paris, Pont Marie and the Quai des Célestins
1874
oil on wood
23.5 x 32 cm
© MuMa Le Havre / Florian Kleinefenn

Jongkind arrived in Paris in March of 1846 at the age of 27, but did not begin painting views of the city until two years later, in 1848. From then on, they became a recurring theme in his work. The bridges and quays in particular provided a variety of subjects he enjoyed painting throughout his life. He tirelessly repeated the points of view in series, some of which featured several variations. But above all, he loved to capture the city along the banks of the Seine and on the water.

The riverbanks were teeming with picturesque motifs: laundry boats, hoisting machines, goods of all sorts, as well as fishermen, boatmen, washerwomen, strollers, cartmen, haulers and their horses... Jongkind, who was familiar with these riverbank scenes in Holland, positioned himself on the quays, at the foot of bridges, and captured the bustling life, but limited it to a few scenes and figures. True to his training as a landscape painter, Jongkind favoured a vision that led him to balance his overall composition, rather than isolate a specific point of interest. The portion of sky, the effects of light, the reflections of the sun on the water were equally important and Jongkind took care to compose each one of his views harmoniously.

As was his custom, Jongkind used the river to draw the eye toward the back of the composition while the outline of the bridge and city serve to close the perspective. The horizon is set low beneath a luminous sky. The fine, lively, almost Pointillist application is typical of the artist's late works, used especially in landscapes with exaggerated effects of light (moonlight, setting sun, etc.).

Zola, who came to visit Jongkind at his Paris studio in 1872, noted with pleasure: "Everyone knows his marine landscapes, his views of Holland. But his other paintings are what delighted me, what instilled in me a particular taste. I want to talk about some of the parts of Paris he painted in recent years [...] I truly love the big city horizons. To my mind, there is a whole mine to be exploited, a whole modern art to be created" and concluded by saying "This profound love of modern Paris, I found it in Jongkind, I do not dare say with what joy."