RENOIR, Bay of Salerno or Southern Landscape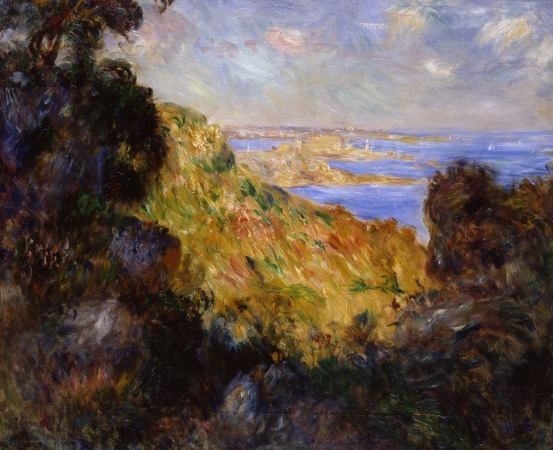 Pierre-Auguste RENOIR (1841-1919)
Bay of Salerno or Southern Landscape
1881
oil on canvas
46 x 55.5 cm
© MuMa Le Havre / Florian Kleinefenn

In 1881,
Renoir
embarked on a long journey that took him from Algeria to Italy. After spending some time in Venice, he headed to Rome where he was captivated by the Farnesina frescoes, before moving on to Naples in late 1881. A stone's throw from there, he painted
Bay of Salerno
, an astonishing landscape by the diversity of brushstrokes the artist employed to depict this bird's eye view of the Gulf of Salerno.
The painting from the Senn collection is composed of three successive planes, each with a different dominant colour. The foreground in overall tones of blue firmly sets the viewpoint, while the jagged hill in the background opens the space like an aerial perspective. In the middle,
Renoir
uses the juxtaposed strokes of thick, oily paint he had already experimented with in
The Mosque
(Paris, Musée d'Orsay).
The foreground, in which blurry bluish masses dance, hesitant, producing a sfumato effect, is the one most reminiscent of
Renoir
's Impressionist art and particularly the blue-coloured shadows of his great masterpieces composed around 1876. Although he strives to give this view a solid structure,
Renoir
still remains fully bound to colour: the middle ground, juxtaposing broad obliques of yellow, mauve and green, throbs with a fierce light whose forcefulness fades with distance.
While the drawing is still not strong in this artwork, the painting provides evidence of the vacillations of an artist racked by doubt about the quality of his art. Showing himself to be as masterly as ever,
Renoir
is most likely also anxious that this virtuosity is pushing him towards some sort of academicism.