PUY, Creek in Brittany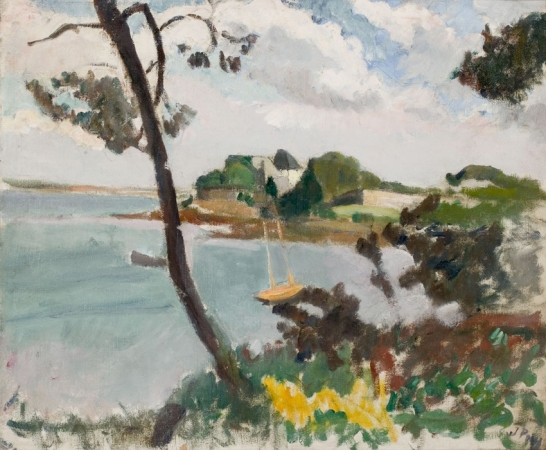 Jean PUY (1876-1960)
Creek in Brittany
ca. 1910
oil on canvas
46 x 54.5 cm
© MuMa Le Havre / Florian Kleinefenn — © ADAGP, Paris, 2015

Around 1910,
Jean Puy
painted a
Landscape at Bénodet
, purchased by the Algiers museum in 1929. This artwork is painted in exactly the same location as
Creek in Brittany
, but affords a wider view of the site, with a female figure stretched out under a parasol. It depicts the same pine tree that runs at an angle across the painting from the Senn collection, as well as the small two-master and the group of houses on the peninsula. It is possible that
Creek in Brittany
was a preparatory study for the painting at the museum in Algiers, larger in size (80 x 100 cm).
What we know for sure, however, is that the painting from the Senn collection is a transition piece, for its surface treatment is highly contrasted. The entire lower section is painted with a great freedom that calls to mind all the best of the Fauves.
Puy
is arbitrary in his brushwork, sometimes using colour as filler, sometimes adopting a spirited and jolting manner that brings the landscape in the foreground to life.
As the eye moves skyward, the technique becomes more precise, inherited from Boudin and the Impressionists. The white parts of certain clouds are applied with a knife, there is greater use of impasto than in the bottom of the painting, and the entire surface retains traces of charcoal outlining the shapes to be painted. It is a composite artwork that shows the explorations of an artist seeking to assert his personality between Impressionism and Fauvism.