Friesz, Yacht Basin at Sainte-Anne, Antwerp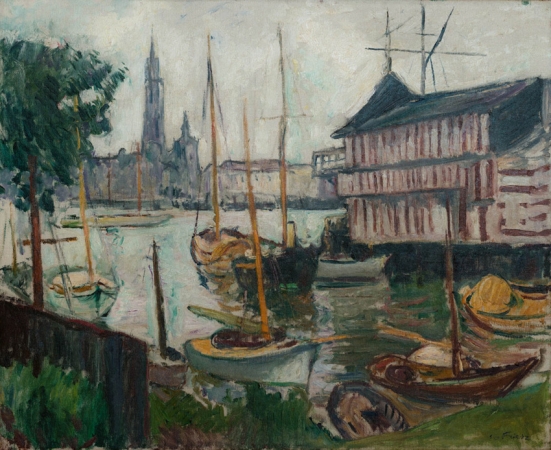 Othon FRIESZ (1879-1949)
Yacht Basin at Sainte-Anne, Antwerp
1906
oil on canvas
50.5 x 62 cm
© MuMa Le Havre / David Fogel — © ADAGP, Paris, 2013

Born in Le Havre, Othon Friesz (1879–1949), like fellow artists Raoul Dufy and Georges Braque, studied at the local École des Beaux-Arts. The three friends started exhibiting together in 1902 and their first works painted from nature still reflected Impressionism. In July 1905, Friesz travelled to Antwerp for the first time and decided to return to work there the following summer. In 1906, he, Dufy and Braque helped to organize the first exhibition of the Cercle de l'Art Moderne, inaugurated on May 16.

Yacht Basin at Sainte-Anne, Antwerp stems from his first trip to Belgium. This painting, still Impressionist in its brushstrokes, demonstrates a careful attention to construction that would become increasingly apparent as the artist matured. Although the painter extended the effects of coloured reflections beyond the shadows in this work, he was still keen on expressing reality, excluding all decorative effects, contrary to Matisse, Derain and Dufy at the time. Still strongly influenced by Impressionism, Friesz gradually disconnected from it during his second trip to Antwerp in 1906.

On June 12 of that year, relieved of his obligations toward the Cercle de l'Art Moderne in Le Havre, Friesz travelled to Antwerp in the company of Braque. Working side by side, they painted harbour life without neglecting the city skyline, punctuated by the spire of the cathedral rising up in the distance. Before his return to Le Havre in September, a retrospective exhibition on Friesz's views of Antwerp was held under the aegis of the Cercle de l'Art Moderne. While colour had invaded most of his paintings, the artist remained attached to the principles of Impressionism, from which he radically departed during a stay in La Ciotat, in southern France, in the summer of 1907.

Although Friesz was a founding member of the Cercle de l'Art Moderne, very few of his artworks seem to have been purchased by the art connoisseurs of Le Havre who belonged to it. Charles-Auguste Marande is the exception to the rule, although it is important to note that he chose a painting prior to the artist's conversion to Fauvism.