Marquet, The Red Roofs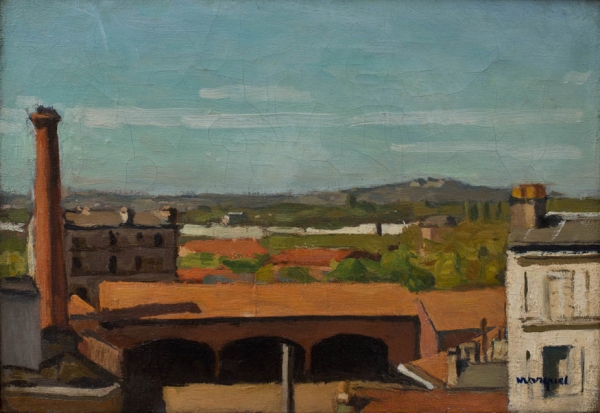 Albert MARQUET (1875-1947)
The Red Roofs
1902-1904
oil on canvas
23.8 x 34.7 cm
© MuMa Le Havre / David Fogel

In 1897, in the wake of his discovery of the Impressionists, Albert Marquet (1875–1947) immersed himself into the heart of the landscape. Trained alongside Matisse in the workshop of painter Gustave Moreau at the École des Beaux-Arts in Paris, he drew inspiration from the heart of the various districts and neighbouring suburbs of the capital city. He exhibited for the first time in 1899 at the Salon de la Société Nationale des Beaux-Arts and participated in the Salon des Indépendants of 1901 with Matisse, Laprade and Puy. This is when he chose to use pure colours, thus prefiguring the style that was to be called Fauvism.

In 1903, Marquet moved to Avenue de Versailles, not far from the Porte de Saint-Cloud, where he produced a series of paintings from the windows of his apartment. The Point-du-Jour district, the industrial buildings and orange-coloured roofs caught his attention. In The Red Roofs and The Balcony. Avenue de Versailles from the Senn collection, Marquet lays out the different planes with alternating areas of light and dark. Colours applied forcefully, with no transparency or Impressionist brushstroke effects, structure the composition.

In 1905, Marquet exhibited in the Salle des Fauves at the Salon d'Automne, and the following year in Le Havre with the Cercle de l'Art Moderne. While maintaining close ties with his Fauve friends, Marquet shielded himself from the excessive use of pure colour. His tones retained a certain softness, his forms were gradually simplified and he placed particular focus on slanted lines to render depth. This type of composition can be found especially in his views from the quays of Paris executed between 1905 and 1908, in which the painter, varying his subjects very little, almost always adopts an elevated and slightly offset point of view with respect to the motif.