van Dongen, Horsemen in the Bois de Boulogne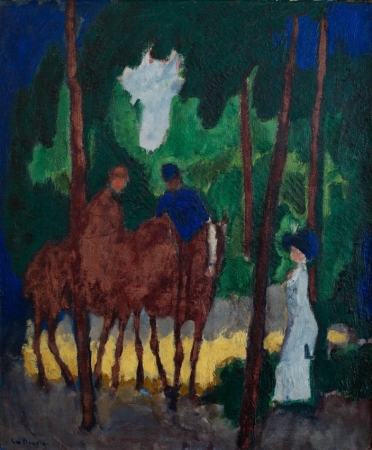 Kees van DONGEN (1877-1968)
Horsemen in the Bois de Boulogne
ca. 1908-1909
oil on canvas
64 x 53.2 cm
© MuMa Le Havre / David Fogel — © ADAGP, Paris, 2013

Dutch painter Kees van Dongen (1877–1968) moved to Paris in 1897, where he was immediately captivated by the city's festive atmosphere. By 1905, he was playing a major role among the young avant-garde artists and was instrumental in the spread of Fauvism abroad. Celebrating pure and violent colours, he had little taste for landscape painting, preferring to sketch human figures in nightlife settings, circuses, cabarets and music halls. Van Dongen called for biting and provocative painting that drew some of its inspiration from the ambiguities of Belle Époque society.

On the recommendation of the Kahnweiler gallery, van Dongen exhibited in 1908 alongside the German Expressionist artists of Die Brücke. He showed his works at the Berlin Secession from 1908 to 1914 and exhibited in Munich in 1910. By the density of the patches of colour evoking the environment and the rapid treatment of the figures' elegant silhouettes, Horsemen in the Bois de Boulogne is closer to the German Expressionist landscape paintings than the explorations of the French Fauves at the time.

The Bois de Boulogne woods and the rich Parisians of the Belle Époque inspired two series of paintings, one on the theme of horsemen and the other on the "cocottes" of the Bois de Boulogne. Horsemen in the Bois de Boulogne brings together both themes and approaches other works such as The Path of Virtue in 1913 and Horsemen in the Woods in 1920.

Like the collector Charles-Auguste Marande, who purchased this painting from the Kahnweiler gallery between 1907 and 1909, an art connoisseur from Le Havre named Pieter van der Velde chose a work on a very similar subject a few years later.