PUY, Still Life, Bouquet of Oranges in a Pitcher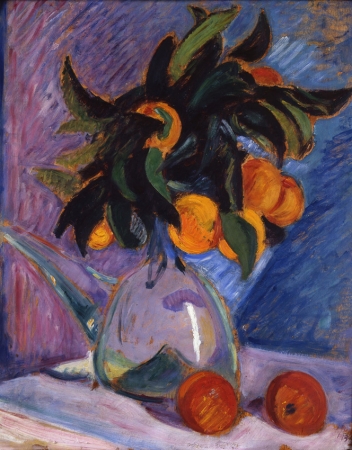 Jean PUY (1876-1960)
Still Life, Bouquet of Oranges in a Pitcher or Collioure
1913
oil on wood
46 x 38 cm
© MuMa Le Havre / Florian Kleinefenn — © ADAGP, Paris, 2015

In 1913,
Jean Puy
spent the winter from February on in Collioure. At this time, his friend Henri Matisse was travelling in Morocco, but the two artists maintained ongoing correspondence in which
Jean Puy
made mention of his great physical fatigue and his difficulties painting. When Matisse advised him to rest, the painter argued he was incapable of being idle. As a tribute to his Fauve friend who painted repeated still lifes with oranges or an opportunity to renew his iconography with local plants,
Jean Puy
painted two still lifes with oranges during his stay in Collioure.
One of them
, rather Cezannesque in the composition's arrangement and its treatment of shapes, was part of the Brisson bequest to the museum collections of the city of Poitiers.
The still life from the Senn collection is a piece of visual exploration that conforms very little to reality. No stems can be seen in the bouquet of oranges, which seems to stand artificially in the narrow neck of the glass pitcher. What the artist sought to express lay more in the formal oppositions: the transparency of the glass container and the lovely roundness of the sun-kissed fruit. While
Puy
's palette remains very naturalist, he manages to exalt his colours to render the warmth and exoticism of the Mediterranean fruit. A concession to Cézanne, whose work he discovered through Matisse, the two oranges set to the right of the pitcher inject some breeziness into an otherwise compact composition.
The diversity of brushstrokes used in the background, on the fruit, the leaves and the pitcher demonstrates that the work is well and truly a technical exercise in which
Puy
strives to resolve the difficulty of conveying contradictory textural effects: the transparency, irisation and polish of the glass, the grainy matte effect of the fruit and the unbridled exuberance of the leaves. One of the most successful features is the white impasto that illuminates the pitcher and bestows it with both brilliance and volume, while above, an orange formed with a great deal of pure colour seems to recall everything the art of the Fauves owed to Van Gogh.