MARQUET, Interior at Sidi-Bou-Said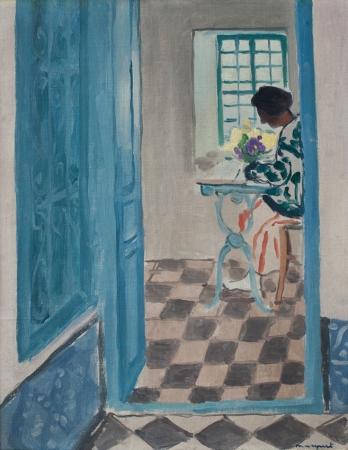 Albert MARQUET (1875-1947)
Interior at Sidi-Bou-Said
ca. 1923
oil on stuck canvas on canvas cardboard
40.7 x 32 cm
© MuMa Le Havre / David Fogel

Widely travelled, Albert Marquet set up his easel in a number of cities around the Mediterranean. He met Marcelle Martinet in Algiers, and married her on February 10, 1923. Their honeymoon took them from Tunis to Carthage, and then to Sidi-Bou-Said, a small village on the west flank of a rocky outcrop. "We are pursuing our exploration and, having left our car at the bottom of the hill, through the fields, we reached Sidi-Bou-Said […]. White houses, blue woodwork, cacti, agaves, a profusion of wild flowers, poppies, wild radishes and daisies, all overlooking a lively sea..."

Upon their arrival in March, they settled into a traditional white house with blue shutters located on the village heights, lent to them by the Baron d'Erlanger, who owned a number of villas.
In Interior at Sidi-Bou-Said, the artist shares the privacy of his retreat in a harmony of blues typical of the canvasses painted in Tunisia. This luminous blue ties the different spaces together, leading us from the entrance walls covered in ceramic tiles with decorative arabesques and a moucharaby with wrought-iron volutes to the intimacy of the study where his wife, Marcelle, is seated.

Through this play of chromatic equivalence between the different spaces, figures and ornaments become one. Marcelle Marquet's floral print blouse coordinates with the bouquet of wild flowers on the table. The syncopated rhythm of the colours, the black-and-white chequerboard tiles, the blue of the door frame and baseboards, and the whitewashed walls all serve to create the spatial dimension of the painting. Marquet painted only one view of their interior in Sidi-Bou-Said, his chief interest being the stunning view over the blue waters of the bay and the staircase streets of the village, the white houses clinging to the rock and lined with wild flowers.