Bartholomé, model for the Monument to the Dead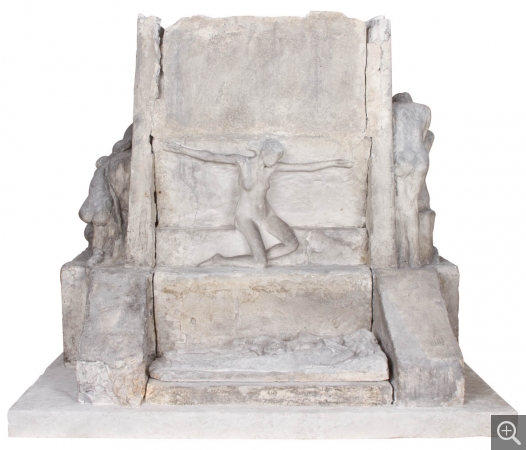 Albert BARTHOLOMÉ (1848-1928)
First model for the Monument to the Dead
1892-1893
plaster
85.5 x 98.5 x 84 cm
© MuMa Le Havre / Charles Maslard

Albert Bartholomé
(1848–1928) was a major figure in sculpture from the turn of the 19th century to the 20th century. With the donation of a part of his studio collection from his second wife, Florence Letessier, in 1953, MuMa boasts one of the largest sets of sculptures by the artist in French public collections.
Bartholomé
was initially a painter, but after the death of his first wife, Prospérie de Fleury, in 1887, he followed the advice of his friend Edgar Degas and devoted himself fully to the design and execution of his wife's tomb, thus learning to work with clay, plaster mouldings and bronze patinas.
In his desire to express death as the common fate of all people,
Bartholomé
first sculpted several isolated figures, which he decided to present at the Salon de la Société Nationale des Beaux-Arts in 1891. In the wake of this first creation, related to a grand calvary grouping isolated figures at the foot of the Cross,
Bartholomé
envisioned a more ambitious project dedicated to the dead forgotten by all of humanity. He thus created his first model for a universal monument. The project was designed as an ancient archaic temple. The processions leading to the door of the hereafter are inspired by the procession of the Great
Panathenaea
on a frieze of the Parthenon. Also influenced by Rodin's
Gates of Hell
,
Bartholomé
applied to his preliminary projects a new technique of quickly kneaded clay in which the suggested shapes bear the determined mark of the artist's hand.
And yet the sculptor was not fully satisfied with his temple of the Dead and decided to arrange the elements in a frontal monument. This second, larger model, which he considered definitive, was revealed in a version 10 metres long by 6 metres high at the Salon de la Société Nationale des Beaux-Arts in 1895, under the title "
Project for a Monument to the Dead
". It was an immense success, with the French State and the city of Paris joining to commission a stone version of the cenotaph. The completed monument to the dead, positioned at the end of the main walkway of the Père Lachaise cemetery, was unveiled to the public on November 1, 1899. An overwhelming success, it received 98,000 visitors on that All Saints Day.
Bartholomé
went on to sculpt other monuments, such as the Pam family tombstone in the Montmartre cemetery, and the monument in honour of Jean-Jacques Rousseau, commissioned in 1907 and inaugurated in 1912 at the Panthéon in Paris.



Albert BARTHOLOMÉ (1848-1928), Second model for the Monument to the Dead, ca. 1895, plaster, 95 x 110 x 48 cm. © MuMa Le Havre / Charles Maslard

Albert BARTHOLOMÉ (1848-1928), Second model for the Monument to the Dead, ca. 1895, plaster, 84 x 68.5 x 40 cm. © MuMa Le Havre / Charles Maslard