Rodin, Saint John the Baptist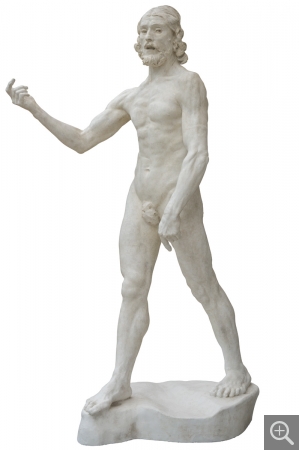 Auguste RODIN (1840-1917)
Saint John the Baptist
1880
plaster with gum lacquer varnish
203 x 71.7 x 119.5 cm
© MuMa Le Havre / Charles Maslard

The idea for Saint John the Baptist came to Rodin with an Italian peasant who offered his services as a model: "As soon as I saw him, I was filled with admiration; this rough, hairy man expressed violence in his bearing, his features and his physical strength, yet also the mystical character of his race. I immediately thought of a Saint John the Baptist, in other words, a man of nature, a visionary, a believer, a precursor who came to announce one greater than himself." Rodin received an honorable mention for Saint John the Baptist at the Salon of 1880, earning him official recognition.

Without his cross and phylactery, the typical attributes used to identify the saint, he appears here in his most basic form. Only the raised right hand suspended in the air and the gaunt face describe the ascetic preaching in the desert. Rodin did away with anything that seemed superfluous and gave the artwork too obvious a meaning. All that mattered were the face and a new focus on the subject's body language. By removing the religious attributes, the image of the saint is eclipsed by that of the man. Rodin continued paring down the motif with The Walking Man (1900), a figure inspired by Saint John the Baptist, but in this case without a head and arms.

On September 14, 1928, Alphonse Saladin wrote to Georges Grappe, curator of the Musée Rodin, expressing his desire to purchase several plaster sculptures by the artist. Grappe proposed a bronze of Saint John the Baptist. The curator opted for the acquisition of three plaster sculptures by Rodin, The Age of Bronze, Saint John the Baptist and the Bust of Dalou, for a total of 1,800 francs. The artworks were delivered to the museum on May 18, 1929. A dozen or so plaster casts of this model can be found in museums around the world (Dresden, Glasgow, Bogotá, Algiers and Antwerp, to name a few). On the same day, May 18, 1929, the Musée de Cambrai acquired a cast similar to the one in Le Havre.