Bourdelle, Hercules the Archer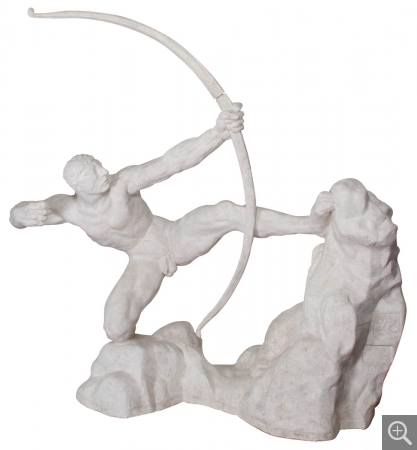 Émile-Antoine BOURDELLE (1861-1929)
Hercules the Archer
1909
plaster
232 x 245 x 123 cm
© MuMa Le Havre / Charles Maslard

From 1893 to 1908, Antoine Bourdelle (1861–1929) was an assistant to Rodin, for whom he executed some of his definitive works. In 1909, gradually freeing himself from the influence of the master, Bourdelle created Hercules the Archer, a work inspired by archaic Greek sculpture. Taking the sixth of Hercules' twelve labours as his subject, the sculptor chose to defy convention. Eliminating all superfluous detail (arrows, quiver) and using foreshortening, he succeeded in portraying a spectacular image of the mythological hero camped on his rock. The lines of force create a gaping void crossed only by the immense curve of the bow and produce a feeling of dynamic tension unprecedented in the work of Bourdelle.

Exhibited at the Salon de la Société Nationale des Beaux-arts in Paris in 1910, Hercules the Archer captivated critics and public alike. In the Mercure de France, Charles Morice referred to "one of the most prodigious endeavours of living art". Museums vied for the work, and Le Havre was no exception. A year after his appointment in 1926, curator Alphonse Saladin negotiated directly with Bourdelle for the acquisition of his plaster, which he obtained for a reasonable price. The ties forged between the artist and the municipality from the 1907 purchase of the bronze bust Intimate Drama undoubtedly worked in the curator's favour and facilitated the transaction.
Displayed in the centre of the Salon Carré on the first floor of the Musée des Beaux-Arts, the monumental work was immediately given pride of place in the visit of the collections.

Hercules the Archer compels by its stance and balance of volume, dialoguing with the ancient collections of the Flemish, Italian and Spanish schools, a contemporary note unfurling in a harmonious 19th-century salon. With this installation, the curator announced the new direction he wished to give the museum, now turned toward the art of its time.