Adam, The Signal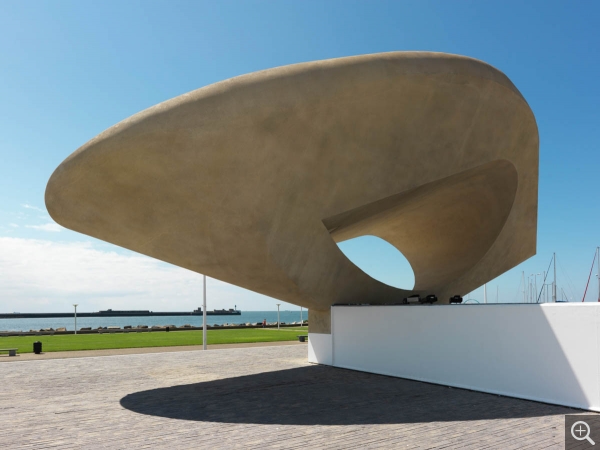 Henri Georges ADAM (1904-1967)
The Signal
1961

© MuMa Le Havre / Florian Kleinefenn

Henri-Georges Adam (1904–1967) was considered during his lifetime to be one of the greatest French sculptors and printmakers of his time. He is the creator of the emblematic Signal, a monumental sculpture spanning 22 metres and weighing 220 tonnes, commissioned by the State in 1956 for the terrace of the Musée-maison de la culture du Havre.

Working closely with the museum's architects, Adam designed his sculpture based on the specific location it would be given: "I required the following conditions for the study of a model for the Le Havre museum: finding a sufficiently large sculptural architectural form to tie the museum's architecture in with the maritime aspects of the location. [...] Polished white cement, with a colour and value that would fully integrate into the landscape's unique light, provided me with the best chance of succeeding."

With the same aim of integrating a visual artwork into architecture, Adam had also designed a tapestry, Sky and Sea, over 7 by 5 metres, destined for the great wall of museum's lower exhibition room (the current library).

Our perception of The Signal radically alters from different viewpoints. It is at once an eye— a name the sculpture is often given locally—and a shell. The Signal takes the shape of multiple sharp-edged straight planes to which slanted lines give a sense of movement despite its monumental size. Adam worked from drawings, then metal, plaster and wood models, some of which can be seen at MuMa. After numerous engineering studies to determine the measurements of a base capable of stabilizing a work with such a daring cantilever, as well as wind-resistance tests performed in a wind tunnel, the project was carried out alongside the construction of the museum between 1959 and 1960, and the artist engraved his signature in 1961. An integral part of the building, the sculpture was inaugurated by André Malraux, France's first Minister of Culture, on June 24, 1961.

Between October 2011 and May 2012, major restoration works were undertaken to ensure the longevity of the sculpture and return it to its original condition.