Bourdelle, Intimate Drama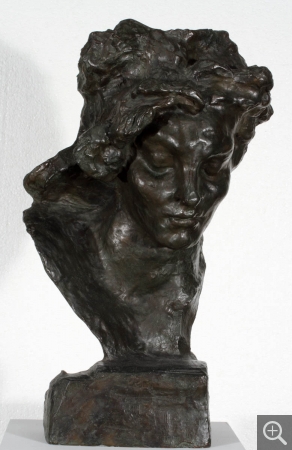 Émile-Antoine BOURDELLE (1861-1929)
Intimate Drama
1899
bronze
62 x 35 x 30 cm
© MuMa Le Havre / Charles Maslard

After two years at the École des Beaux-Arts in Paris, Antoine Bourdelle(1861–1929) was hired in 1893 as an assistant in the studio of his friend Rodin, who dominated European sculpture at the time. In the years 1900–1905, gradually freeing himself from Rodin's influence, his work drew closer to ancient and medieval sculpture. His years of artistic maturity were marked by a number of commissions, including the facade of the Théâtre des Champs-Élysées in Paris, which was designed in one night, and Hercules the Archer, exhibited in 1910 at the Société Nationale des Beaux-Arts. With this work, Bourdelle met a resounding success that extended beyond the borders.

Intimate Drama, or Inner Drama, is one of his last works with a Rodin feel. By the shape and contours that bring the face to life and make the light delicately shimmer, by the alternating raw and worked materials, this bust evokes the non finito dear to Rodin. Seeking to break away, Bourdelle began steering his work toward more in-depth research on the psychological dimension. The contrast between the striking, tousled hair and the deep concentration on the face accentuates the tension that emanates from the work as a whole. Did Bourdelle not declare that statuary not only "forms its own shape in the matter, but [...] instils it with its unconscious self"?

Presented twice in Paris in 1905, first with Hébrard, then at the Salon d'Automne, Intimate Drama was part of Bourdelle's four entries to the exhibition of the Cercle de l'Art Moderne at Le Havre in 1907. On the advice of art collector Charles-Auguste Marande, the city decided to purchase the work at the close of the exhibition. The sculptor agreed to sell it for a modest sum. A year later, reaffirming his support for Le Havre, Bourdelle donated his plaster bust of Ingres, exhibited at the Cercle de l'Art Moderne and considered by the best critics to be the most beautiful sculpture of the Société Nationale des Beaux-Arts in Paris.