Schnetz or Géricault, The Old Italian Woman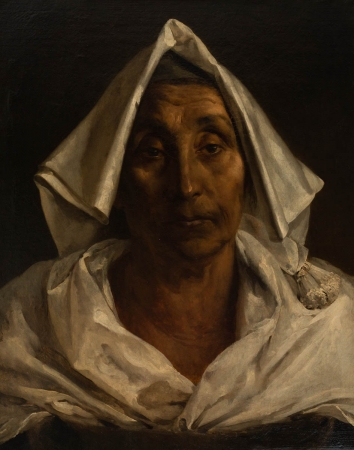 Jean-Victor SCHNETZ (1787-1870) ou Théodore GÉRICAULT (1791-1824)
The Old Italian Woman
oil on canvas
62.3 x 50 cm
© MuMa Le Havre / David Fogel

This portrait of
The Old Italian Woman
, placed on deposit by the Louvre in the Le Havre museum in 1872, was part of the major La Caze bequest of 1869, and was attributed to
Jean-Victor Schnetz
(1787–1870) at the time. On loan to the Château de Flers museum in 2000 for a retrospective on the painter, the artwork was then, most spectacularly, reattributed to
Théodore Géricault
(1791–1824). Bruno Chenique and Sylvain Laveissière, who researched the comparison, found a series of convincing matches with confirmed paintings by the great master.
According to their analysis, the artwork has the characteristics of a
Géricault
in terms of framing and the rendering of skin and clothes. To support his hypothesis, Bruno Chenique made painstaking comparisons with the mane of the
Head of a White Horse
by
Géricault
, with the eyes of the
Portrait of a Kleptomaniac
and with the skin of the
Severed Heads
, strange still-life studies the artist used as documentary material for
The Raft of the Medusa
.
Nevertheless, not all experts agree on the attribution to
Géricault
, which remains the subject of passionate debate. The painting still holds secrets, and some points, such as its dating and its aim, remain to be clarified.
The subject of the painting suggests that the artwork was completed in Rome, where
Théodore
Géricault
resided in 1816 and 1817. The model, an elderly woman, her skin leathered from the sun, is portrayed in several paintings by artists who stayed at the Villa Medici in the 1820s. Léon Cogniet shows her in a pose similar to that of
Géricault
, François-Joseph Navez places her in a
Scene of Brigands
as a fortune teller, and
Jean-Victor
Schnetz
depicts her in the same way in two of his paintings, with
The Fortune Teller
, c. 1820, and
A Gypsy Predicting the Future of Sixte-Quint
, in 1826, of which he produced six different versions. The residents at the French Academy in Rome and the artists who revolved around the institution formed a tight circle. They did not hesitate to paint and explore the Roman countryside together, not to mention share the same models. This old Italian woman, who exemplified the peasant from southern Italy, thus lent her striking facial features to these young artists in search of original and unmistakable models. While some portrayed her in anecdotal scenes, the artist of this portrait captured her extraordinary presence with highly effective simplicity.