Corot, Dunkirk, Ramparts and Entrance to the Harbour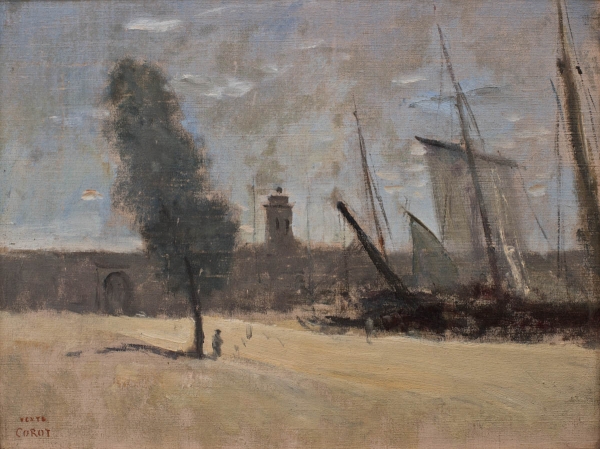 Jean-Baptiste-Camille COROT (1796-1875)
Dunkirk, Ramparts and Entrance to the Harbour
1873
oil on canvas
24.8 x 32.7 cm
© MuMa Le Havre / David Fogel

After an eye-opening trip to Rome, Jean-Baptiste Corot (1796–1875) continued to travel his entire life, throughout Europe and France. The friendships he formed in the North with artists Constant Dutilleux and Charles Desavary, who introduced him to the cliché-verre process in particular, brought him to the region from time to time. He explored the area in their company, from Arras to Boulogne-sur-Mer, Dunkirk to Saint-Omer.
He visited Dunkirk for the first time in 1830, and returned for another stay in 1857. While there, he painted around ten oil studies (Dunkirk, the Fishing Docks, Musée des Beaux-Arts, Dunkirk) and filled two sketchbooks. He did not return again until the end of his life, in 1873, accompanied by Charles Daubigny.

For this painting, the smallest one he produced during this final stay, Corot positioned himself right on the dock of the harbour. There is a mere hint of the city, hidden behind the fortified wall from which the octagonal Leughenaer Tower rises. The wharf is practically deserted. Only two human figures can be made out, one at the foot of the tree, the other by the boats. Rather than focus on typical harbour life, Corot strove to capture the masses of the landscape: the long fortified wall, the entangled shapes of the sailboats and the almost alien outline of the tree. A bright sun shines down on the scene, casting contrasting shadows of the tree, the enceinte and the ships at dock.

The entire piece is done using rapid brushstrokes on a deliberately thin paint surface. The hazy contours lend the shapes a delicate evanescent quality and fill the artwork—more a sketch than a finished landscape—with infinite charm.