COURBET, The Seashore at Palavas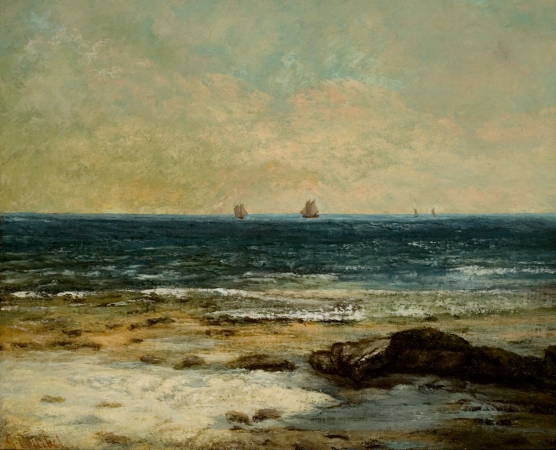 Gustave COURBET (1819-1877)
The Seashore at Palavas
ca. 1854
oil on canvas
60 x 73.5 cm
© MuMa Le Havre / Florian Kleinefenn

Although
Gustave Courbet
discovered the sea at Le Havre in 1841, he did not truly explore the element until thirteen years later, in 1854, when he made it the subject of an initial small series of artworks that he would later refer to as "seascapes".
The Seashore at Palavas
clearly belongs to the early seascapes painted on the shores of the Mediterranean and is recognized as one of the finest examples.
Courbet
adopted the same balance between the sky and the beach/sea as in
The Sea at Palavas
(Musée Fabre, Montpellier), with the horizon line placed slightly above the centre.
The silhouettes of four sailing ships against the sky interrupt the straight line of the horizon, which divides the composition into two almost independent sections given very different treatments. The sky, still classic in execution, presents a blue-green underlayer covered in light glazes with livelier impasto of pink paint and a few dashes of orangey-red. The beach and sea are done in a much freer hand. Drawn out with the brush, scraped, scratched, dabbed with impasto of pure colour, the paint is the true subject of the artwork. The boundary between the wet beach, blanketed in the off-white foam of the dying waves, and the sea is lost. The shapes of the rocks, sand, puddles and rolling waves are blurred.
This entire section, between land and sea, is merely a pretext for a subtle play of colours that merge, blend and soften in shades of grey-blue, pale blue, green-grey, bluish green, ochre, brown, pale pink and pure white.
Courbet
would return to these chromatic variations when in Trouville with Whistler in 1865, and then in the long series of "seascapes" he painted in Normandy until 1869, the last of which acquired by the Musée Malraux,
The Wave
, is one of the final and sumptuous variations on the theme.