CHINTREUIL, Countryside in Spring or Orchard in Carlepont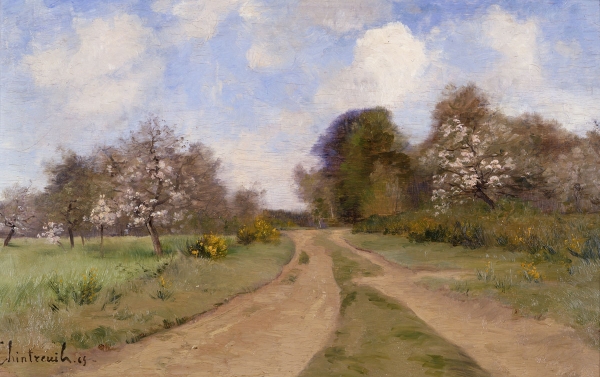 Antoine CHINTREUIL (1814-1873)
Countryside in Spring or Orchard in Carlepont
1865
oil on wood
25.7 x 40 cm
© MuMa Le Havre / Florian Kleinefenn

In 1865,
Antoine Chintreuil
moved to the hamlet of La Tournelle, in Septeuil, not far from Mantes. He was attached to this countryside, and seldom left it. Carlepont, located only a few kilometers from Noyon, near the banks of the Oise, was already considered relatively far for him to travel.
Chintreuil
set up his easel at a crossroads on the edge of this small town, and painted the spring countryside bursting into all its green splendour. Here he returns to a type of composition he was particularly fond of, positioning himself in the middle of a road that extends deep into the countryside. The line harmoniously divides the landscape in two, with the meadow and blossoming apple tree on the left echoing the wide grassed verge and foliage on the right, and creating the illusion of an almost dilated space. The impression is further strengthened by the "wide-angle" view onto the landscape, with the road occupying practically the entire foreground.
This theme of the spring countryside and the road can be found in several of his works, notably
Apple Trees and Broom in Flower
, currently housed at the Musée d'Orsay. Comparison with this later piece confirms, if that were still necessary, that the painting from the Senn collection is a study: its much smaller size, the absence of characters, the "painted from nature" aspect of the landscape and its rapid, sketch-like brushwork. Also seen, however, are the different characteristics of
Chintreuil
's painting style: blocks of fresh, even rather strident, colours, combined with small touches of pure and vivid colour, especially for the vegetation, a light, subtle and vaporous treatment of the foliage inherited from his master Camille Corot...
This of course does not in any way detract from the quality of the artwork, full of vivacity and freshness. Chamfleury wrote: "One does not describe a landscape by
Chintreuil
: it is an emotion" and added that "a sensitive nature is needed to understand them".