Delacroix, Landscape at Champrosay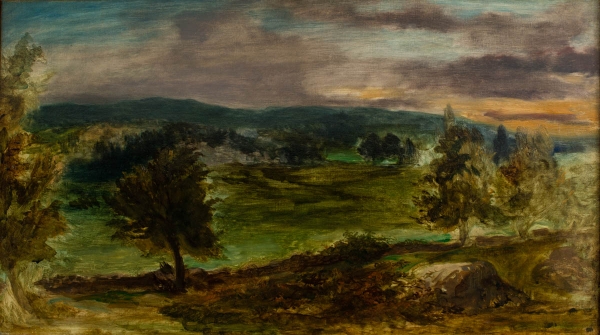 Eugène DELACROIX (1798-1863)
Landscape at Champrosay
ca. 1849
oil on canvas
41 x 72.5 cm
© MuMa Le Havre / David Fogel

Known for his large historical compositions and his taste for the Orient, Eugène Delacroix (1798–1863) always attributed great importance to landscape. His many study sheets, and his watercolours that are not unlike the works of British artist John Constable, demonstrate his insatiable curiosity for nature and its most dramatic effects. He nevertheless rarely painted pure landscapes, the number estimated at only a little over twenty. Landscape at Champrosay, acquired by Olivier Senn, a collector from Le Havre, before 1930, is part of this very limited corpus.

Eugène Delacroix retreated to Champrosay, at the edge of the Forest of Sénart on the outskirts of Paris, in the summer of 1844. He noted in his journal the impressions inspired by nature during his frequent walks in the countryside. He made many sketches, which he then reworked in his large compositions. But he also painted more ambitious landscapes, demonstrating how important observing nature for itself became to him in his later years and old age.

This proximity to nature can be felt in Landscape at Champrosay, painted with impressive energy and sureness of touch. His full, broad brushstrokes reveal a rapid execution comparable to that of watercolour. Light and fluid, the painting exposes the weave of the canvas here and there, like the white of the paper in a colour or ink wash. The colour is diluted to obtain varying degrees of intensity, and sometimes so liquid it forms drips and streaks that the artist makes no attempt to correct. The strokes are thicker in places, in the orange of the sun, the mauve of the clouds, and display a full palette of colours, from the brownish yellows and reddish browns in the foreground to the dark green and dark blue in the distance.

Landscape at Champrosay is not only one of the few pure landscapes by Delacroix, but also, by its size and display of skill, one of the artist's most ambitious and most personal artworks.