Millet, Portrait of Charles-André Langevin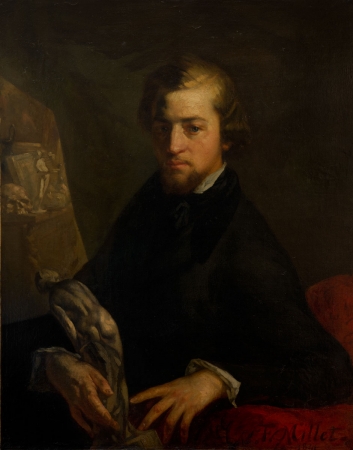 Jean-François MILLET (1814-1875)
Portrait of Charles-André Langevin
1845
oil on canvas
92 x 73 cm
© MuMa Le Havre / David Fogel

Known above all as a talented landscape painter and a founder of the Barbizon School,
Jean-François Millet
(1814–1875), artist of
The Angelus
and
The Sower
, painted very few portraits, which correspond mainly to his early works. Originally from Cherbourg,
Millet
was introduced to the art of portraiture through his first teachers and visits to the local museum. After training in Paris, he returned to Cherbourg, where he painted his first portraits. These included effigies of his young wife, Pauline Ono, and his entourage, as well as influential locals. Upon the premature death of his wife, he left Cherbourg for Le Havre, in search of a new clientele.
The
Portrait of Charles-André Langevin
belongs to a series of important figures from Le Havre painted by
Millet
in 1845. Customs inspector, then head of customs for the port, Langevin is portrayed here in the undoubtedly more flattering activity of art collector. By commissioning
Millet
to paint his portrait, Langevin would add a masterwork to his collection. This collection, bequeathed in 1902 by his widow, mainly comprised decorative objects, china, earthenware, bonzes, enamels and furniture, but few paintings.
Langevin is portrayed holding an edition of
The Bather
, also known as
Nymph Entering her Bath
, by sculptor Étienne Maurice Falconet (1716–1791), with a memento mori of a small Etruscan cantharus and a skull in the background. With the somewhat mannered pose of the subject's hands and the warm tones of colour,
Millet
conforms to the dual tradition of Venetian portraits and the portraits of Renaissance sculptors.
When he left Le Havre, where he spent but a year, the artist put an end to his career as a portrait painter.