From van der Weyden, Descent from the Cross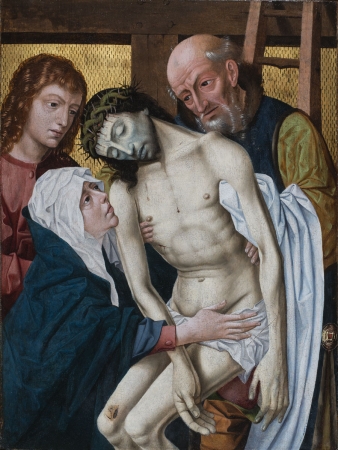 Anonyme
Descent from the Cross
ca. 1450-1500
oil on wood
71 x 59 cm
Don Augustin-Normand, 2007
© MuMa Le Havre / Charles Maslard

The property of Paul-Augustin Normand, donated to MuMa in 2007 by the descendants of the shipowner from Le Havre, this recently restored panel depicts a Descent from the Cross against a gold background.
The tightly framed composition gathers before the cross and around the body of Christ the figures conventionally associated with this scene: Joseph of Arimathea, Mary and John, depicted here from the waist up.

The Augustin-Normand panel, previously attributed to Colyn de Coter (active in Brussels from 1485 to 1522) or to his entourage, proves to be quite similar to a Deposition with St John held at the Musée des Beaux-Arts in Nancy. Like this artwork, it is presumably a copy of a piece, now lost, by Rogier van der Weyden (Tournai 1399/1400–Brussels 1464).

The Descent from the Cross at MuMa follows the models developed by the master in the mid-15th century. It is one of the countless copies of major works produced in Flanders, and particularly Brussels, between 1440 and 1550. Smaller in size and cost, these panels produced in series in specialized workshops retained all the symbolic value of the originals. Affordable to a broader clientele, they contributed to the decoration of private oratories or funeral chapels.

The simple composition, set against a gold background and clearly true to the archetype, as shown by the comparison with the Deposition in Nancy, prompts reconsideration of the attribution of the panel in Le Havre to Colyn de Coter or his continuators. The artwork is exempt from the research into decorative, dramatic and naturalist effects that characterize the works attributed to this artist and his successors.

Although it does not possess all the subtlety of the Van der Weyden originals, the Descent from the Cross at MuMa presents an interesting overview of the master's artworks. Its firm drawing, careful treatment and delicate colours, highlighted by the restoration work, reveal the talent its creator, who, for lack of convincing comparisons, remains anonymous.