Backhuysen, Seascape and Fishing Boats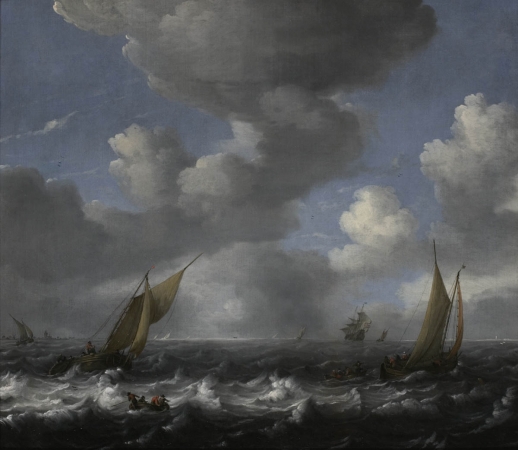 Ludolf BACKHUYSEN (1630-1708)
Seascape
2nde moitié du XVIIe siècle
oil on canvas
84.5 x 97.3 cm

© MuMa Le Havre / Florian Kleinefenn

Ludolf Backhuysen (1631–1708) moved to Amsterdam in 1649 and enjoyed early success as a painter. Renowned for his harbour scenes and illustrations of Dutch maritime history, he is also known for his descriptions of storms, observed first hand and later rendered in the studio. He received prestigious commissions and great leaders—Elector of Saxony, King of Prussia, Peter the Great, Tsar of Russia—sought his teaching.

Seascape and Fishing Boats illustrates the painter's constant focus on transcribing a recent memory or vivid impression. A dark, cloudy sky occupies two thirds of the composition, dominating the choppy waters and a series of boats tossed in the waves. A blinding light pierces through the clouds in places. With remarkable economy of means—rapid brushstrokes, shades of grey and red detailing—, Ludolf Backhuysen delivers a vigorous and convincing work of art that evokes the power of the elements. A few inconsistencies in the transcription of the sky and sea nevertheless contradict the painter's apparent objectivity, as do the dramatic effects of the diagonal masts, the wind-blown waves and the contrasts of light.

By highlighting minuscule sailors battling the elements, this artwork alludes to the uncertain nature and fragility of all human destiny subjected to divine will and encourages a moral or spiritual interpretation of the landscape.