Ribera, Saint Sebastian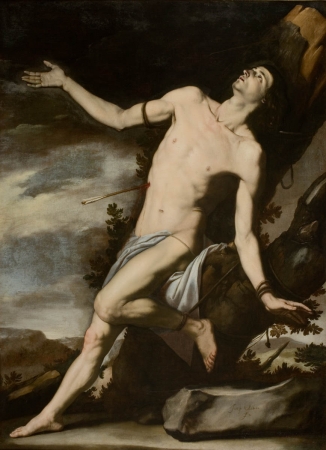 Jusepe de RIBERA (1591-1652)
Saint Sebastian
oil on canvas
226 x 173.5 cm
© MuMa Le Havre / Florian Kleinefenn

In the 17th century, Spanish painting experienced a remarkable development that is still referred to as the "golden age" and illustrated by names like Zurbarán, Vélasquez, Murillo and Ribera.
Native to the region of Valencia, Jusepe de Ribera (1591–1652) studied under the Spanish painter Ribalta. In 1613, he left Spain for Rome, where he discovered the work of Caravaggio. In 1616, he settled permanently in Naples, which was under Spanish rule, and enjoyed the court as a protégé of the famous Duke of Osuna and Count of Monterrey. The arrival in Naples of Vélasquez in 1630 had a strong influence on his painting, inciting him to adopt a softer chiaroscuro and more luminous palette. While Ribera drew most of his subjects from the Bible, his abundant production also included mythological paintings and war scenes.

In this monumental painting, Ribera portrays the martyrdom of Saint Sebastian. Officer of the Praetorian Guard under Diocletian (3rd century), Sebastian, a secret Christian, revealed his faith when two fellow Christians were condemned to death. He was immediately sentenced to be shot with arrows and left to die, but was nursed back to health by Irene. Once again, he confronted the emperor, who had him clubbed to death and thrown in the great Roman sewer, the Cloaca Maxima.

As in other martyr scenes, the chosen iconography depicts a moment of direct communication with the Divine. The religious outpouring finds expression in the parted lips and the eyes wet with tears gazing heavenward. This large-scale Saint Sebastian is an ambitious painting that plays on the unique effect of a diagonal. While the slightly twisted body principally serves to highlight the anatomy of the torso, it also recalls the crucifixion of Christ. The right hand turned to the sky, like the saint's gaze, is a symbol of intercession.

Whether done by the artist's hand or by his entourage, a practice that became more common in 1634 as illness sapped his strength, this painting probably belongs to the second half of Ribera's career, when he brightened his palette under the influence of the Venetians and the evolution of painting in Rome toward a lighter baroque style.