ter Brugghen, Calling of Saint Matthew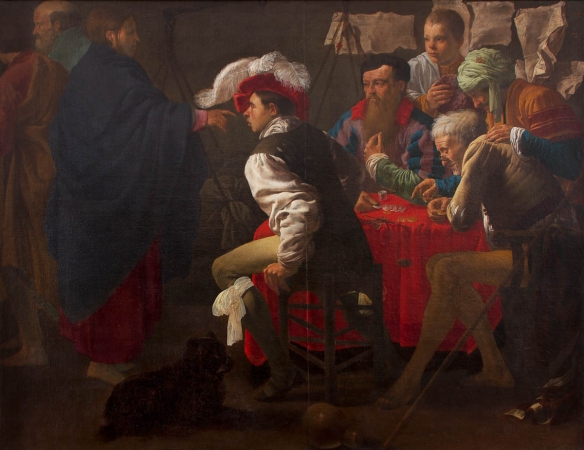 Hendrick ter BRUGGHEN (1588-1629)
Calling of Saint Matthew
ca. 1620
oil on canvas
153.5 x 195 cm
© MuMa Le Havre / Charles Maslard

Born in The Hague to a Protestant family, likely in 1588,
Hendrick ter Brugghen
moved to Utrecht in 1615 after a long sojourn in Italy. Influenced by the work of Caravaggio and Orazio Gentileschi, he quickly proved to be the city's most talented painter.
The Calling of Saint Matthew
, painted by Caravaggio in 1599–1600 for the Contarelli Chapel in the Church of San Luigi dei Francesi in Rome, inspired three of
ter Brugghen
's compositions. The work in Le Havre, undoubtedly painted around 1620, borrows from the Italian master the motif of Christ calling Levi, the tax collector who becomes Saint Matthew, to abandon everything and join the apostles. The gesture of Christ, the surprise of Matthew, the postures of his plebeian-looking companions and the contrasted lighting of the scene call to mind Caravaggio's Roman model. The dense composition, framed around the figures, the artist's interest in anecdotal details and the hardy features of the models nevertheless betray his attachment to traditional northern formulae.
Painted in 1621, another
Calling of Saint Matthew
, at the museum in Utrecht, shows the rapid evolution of
ter Brugghen
's work towards a stronger and yet more personal Caravaggism, with a monumental and elaborate style that justifies the admiration he received from his contemporaries, Rubens in particular, and his position as leader of the Utrecht Caravaggisti.