Vouet, The Entombment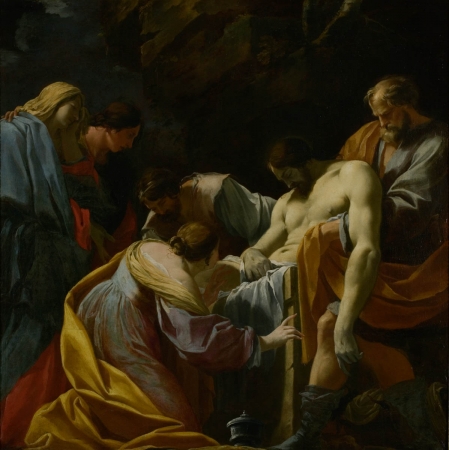 Simon VOUET (1590-1649)
The Entombment
ca. 1636-1638
oil on canvas
149.8 x 151.4 cm
© MuMa Le Havre / Florian Kleinefenn

Influenced by the work of Caravaggio, Simon Vouet (1590–1649) moved to Italy in 1612, where he also developed an interest in the work of the Carracci brothers and the Venetian and Flemish colourists. Summoned to Paris by Louis XIII in 1624, he received the title of Premier Peintre du Roi. Many of the leading artists of the 17th century (Le Brun, Lesueur, Perrier, Mignard, etc.) passed through his workshop and worked with him on commissions for major decorative projects in the French capital.

In 1636, Vouet painted a decorative scheme in the chapel of the Hôtel Séguier for the chancellor Pierre Séguier. This ensemble, composed of a painted ceiling and a series of paintings on canvas and wood, was sold during the French Revolution and broken up in the early 19th century. The format and di sotto perspective—"seen from below"—adopted by the artist for The Entombment at Le Havre draws this work closer to the preserved remains of the Séguier Chapel decor. The figures conventionally associated with the theme—on the left, Mary and John, on the right, Joseph of Arimathea and an anonymous figure holding the body of Christ, and lastly, kneeling in the foreground, Magdalene turned toward Christ—occupy most of the pictorial space. The monumental simplicity of the composition, the contained emotion of the figures, the sumptuous draperies, the rich and bold range of colour and an extreme freedom of brushstrokes all characterize the artwork and firmly establish the painter's talent.

Two preparatory drawings, three other scenes from the life of Christ and an altar painting depicting the Crucifixion, also from the Séguier Chapel, exhibit the same qualities and thus encourage the recognition of Simon Vouet as one of the most significant artists of 17th-century France.