Dufy, Yacht with Flags at Le Havre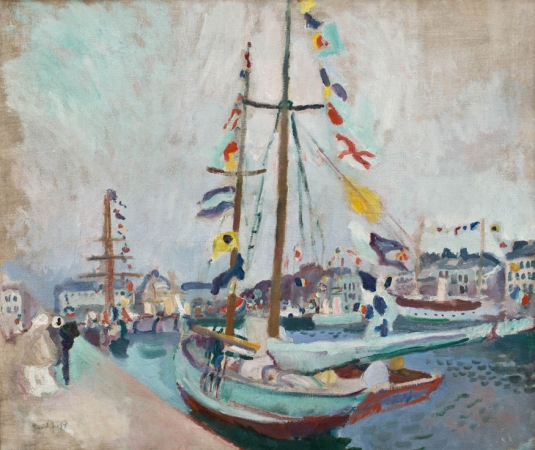 Raoul DUFY (1877-1953)
Yacht with Flags at Le Havre
1904
oil on canvas
69 x 81 cm

© MuMa Le Havre / David Fogel © ADAGP, Paris, 2013

Raoul Dufy (1877–1953) discovered Matisse's painting Luxury, Calm and Voluptuousness at the Salon des Indépendants of 1905, and it was a revelation. Particularly struck by the work, he understood that Impressionist realism was a thing of the past and that painting was now turning to a transcription of "the imagination introduced into drawing and colour". He adopted the style and manner of the young Fauves, especially the swathes of glowing colours that evoke shape and volume.

The Yacht with Flags at Le Havre marks the emergence of this new vision. Although he chose a motif explored repeatedly by Boudin and Monet, the young artist distinguished himself from his predecessors with an entirely new approach. Here Dufy renounces aerial perspective—which involves giving an illusion of depth by gradually blending the successive planes to the colour of the sky—to adopt a tighter frame on the ship docked in the Bassin du Commerce. The slanting line of the quay highlights the use of accelerated perspective. The colour blocks of the flags, roofs, windows and the stylization of the waves show Dufy's departure from the more regular brushstrokes of Impressionism toward a unique fusion of drawing and colour.

Deviating from the example of his elders, Dufy opted for a more rudimentary design, clearly visible in the treatment of the figures strolling along the quay. The green tones that prevail throughout the painting demonstrate the use of colour independent of reality. While the intensity of colours is not exacerbated, the colourful touches in a variety of sizes mark the first step towards total liberation of colour. The motif of the flag flapping in the wind after the series of the Yachts and The Regatta Tent spectacularly reached full accomplishment in Street Decked with Flags, painted in Le Havre for the 14th of July celebrations of 1906.