Dufy, The Pier and the Beach at Le Havre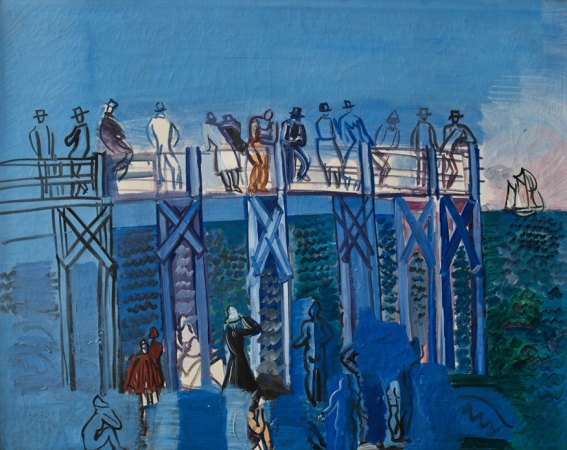 Raoul DUFY (1877-1953)
The Pier and the Beach at Le Havre
vers 1926
oil on canvas
65.5 x 77.5 cm

© MuMa Le Havre / David Fogel © ADAGP, Paris, 2013

Raoul Dufy (1877–1953) was born in Le Havre, a city that remained a constant source of inspiration for his painting. While he continued to paint the harbour and its activity between 1900 and 1904, Dufy also began showing interest in seaside recreation as early as 1901. The busy pier with people strolling out to the sea remained a focus of his work until the 1920s. While the early versions on this subject are marked by lively strokes similar to certain works by Boudin, Dufy soon turned his attention to the geometry of wood constructions, the shapes of which could be conveyed by variations in colour.

From 1926 to 1933, Dufy made numerous trips to his native Normandy, drawing constant inspiration from the quality of light and seascapes. The Pier and the Beach at Le Havre belongs to a set of three versions on the same theme executed in 1926. Dufy isolated the pier motif, an essential component of the Le Havre landscape. The entire length of the wood footbridge shares this two-dimensional space. The beach in the foreground is reduced to a narrow strip occupied by a few figures, arranged using the three-colour approach specially developed by the artist himself during this period. Dufy also applied his theory of white shadows, shadows internal to the objects portrayed, and dissociated shapes from their respective colours. Figures and marine features meld within a unified blue architectural space.

Far from the atmospheric effects of his first Impressionist paintings on the same motif, Dufy found in the transparency and depth of water the ideal component for developing his exploration of colour independent of objects. The stylized arrangement of the motifs—boat, water fringed with foam, rippling waves—conveys the artist's desire to transpose into his painting the decorative approach at work in his ceramic production of the same period.